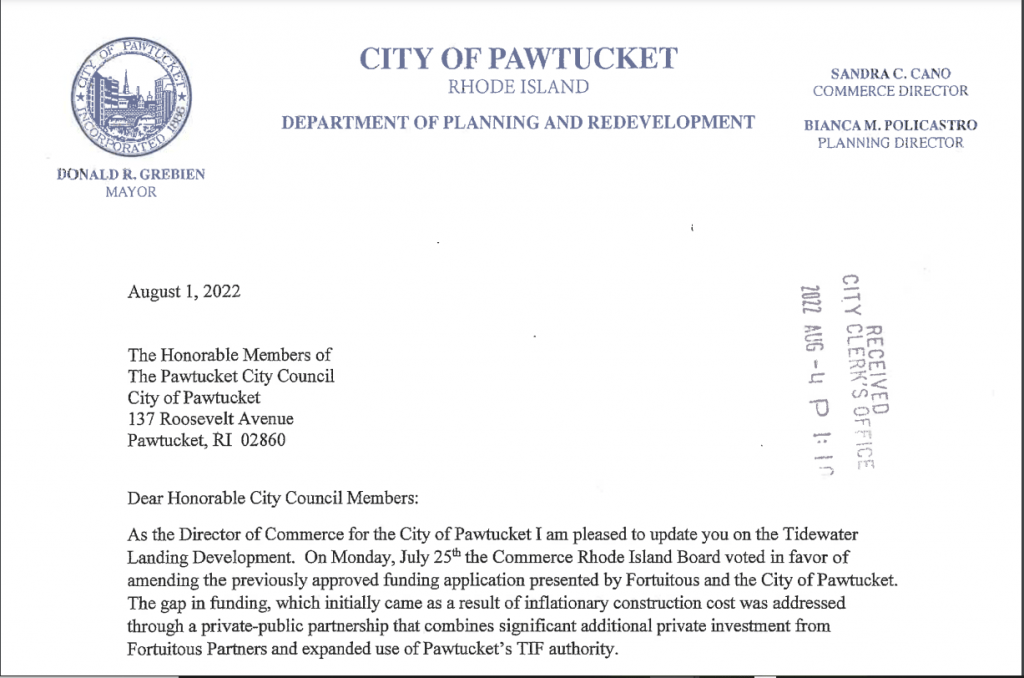 Sandra Cano Letter

Rhode Island State Senator Sandra Cano, who in a clear conflict of interest to any sentient human being, serves as Economic Development Chief for the City of Pawtucket finally addressed, in a manner, the 10$ Million Dollar contribution by the City to the troubled Tidewater Landing Soccer Stadium.
In a letter to the Pawtucket City Council, Incredibly, Ms. Cano simultaneously claimed that "no existing Pawtucket taxpayers will be contributing to this project" while proclaiming "We are exploring a number of options including altering the stadium's tax stabilization agreement and including additional incremental and property tax revenue from within the TIF District along with Federal Grants (as supported by the attached)"
Ms. Cano? The taxes from the TIF District will be from existing Pawtucket taxpayers. Especially as Stadium construction will occur before any of the "projected" mixed use ancillary development (Housing/Retail) Claims that Tidewater Landing will be a destination spot wither in the face of the Foxboro Massachusetts based Major League Soccer Stadium Revolution, who host Major, Minor League & Developmental Soccer Teams just 16 miles away, literally on the way to Pawtucket.
With regard to the "Workforce Housing"? The Grebien Administation, CommerceRI & Fortuitous Partners still refuse to disclose publicly any of the underlying rent costs associated.
Coalition Reporter Pat Ford Grills Pawtucket Mayor Don Grebien