(Reporter Ford) Governor McKee:
In the Company Biography Fortuitous Partners Principal Brett Johnson cites his involvement in a company called Greenwood Hall as a Company, in the present tense, is a leading education firm, when in fact, after losing millions in 2016, closed its doors in 2017.
Brett & his brother Grant Johnson, then of predecessor firm Benevolent Partners, backed and subsequently led a company called BurnLounge, which the Federal Trade Commission ultimately labeled a Pyramid Scheme, and ordered to refund consumers 17 Million Dollars.
Are you at all concerned that CommerceRI failed to do due diligence on Mr. Johnson?
(Governor McKee) No.
A Cautionary Tale-In Two Parts: Business & Investor
The eternal question? At two levels, both on a Corporate/Federal level, as well as the process of soliciting investors, a proven level of fraud & deception has followed the Johnson Brothers, now of the Fortuitous Management Group leading the Tidewater Landing Soccer Stadium Project. How is it possible that Governor McKee & The Rhode Island Commerce Corp were unaware of this record? In this article, The Coalition raises the issue of the somewhat ironically named BurnLounge, which featured Benevolent Capital Partners (Led by the brothers Johnson) as both investor & management, a predecessor of Fortuitous Partners.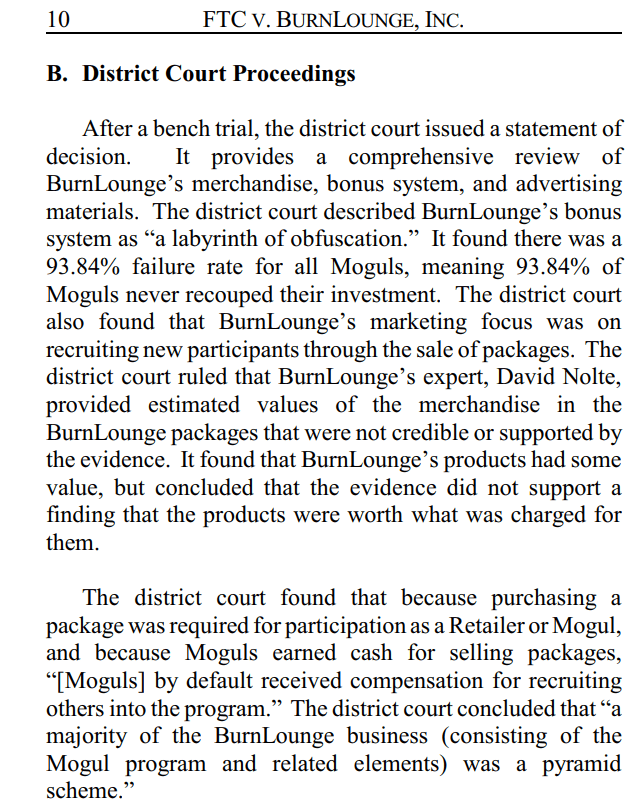 The Business Model
For most, BurnLounge is a long forgotten scam, lost in the hurly burly that constitutes the ongoing hustle that is the American Entertainment Industry. The premise was simple enough. According to Billboard Magazine, "BurnLounge began operating a service that allowed its customers to double as independent retailers. Customers could buy different levels of packages and then spend extra to qualify as "moguls." Participants got customized web pages to sell music, merchandise and "right to sell" packages, and if they qualified as moguls, they were given the ability to redeem credits for cash rather than goods." "
The Billboard Article continues: "The system provided an incentive towards downline recruits. BurnLounge preferred to think of its business model as "concentric retail bonuses" whereby customers in one ring of the hierarchy would sell to those in another. To qualify for bonuses, moguls had to meet certain targets in selling packages and albums.
Whether or not BurnLounge's multi-level marketing business constituted an illegal pyramid scheme came down to an interpretation of whether it met the FTC's test of participants paying money in return for (1) the right to sell a product and (2) the right to receive rewards for recruiting others into the program unrelated to the sale of the product to ultimate users.
The first prong was easily satisfied.
As for the second, evidence that participants were focused on recruitment included that 96.8 percent of those buying packages became "moguls," and that the moguls themselves bought the most premium packages to drive their bonus returns. Non-moguls were much more interested in basic packages."
In June of 2007, the Federal Trade Commission sought to shut down BurnLounge:
"The complaint charges that BurnLounge sold opportunities to operate on-line digital music stores that was, in fact, an illegal pyramid scheme. The agency is seeking a permanent halt to the illegal pyramid practices as well as other illegal practices alleged in the complaint.
According to the FTC, BurnLounge recruited consumers through the Internet, telephone calls, and in-person meetings. The sales pitch represented that participants in BurnLounge were likely to make substantial income. BurnLounge recruited participants by selling them so-called "product packages," ranging from $29.95 to $429.95 per year. More expensive packages purportedly provided participants with an increased ability to earn rewards through the BurnLounge compensation program."
In June of 2007, investor Grant Johnson was formally named CEO.
The United States District Court – California, ruled in favor of the Federal Trade Commission, in February of 2012
Amended BurnLounge Decision Lower Court

The reaction of the Federal Trade Commission was swift: In March of 2012:
"At the request of the Federal Trade Commission, a U.S. district court judge has ordered the operators and top promoters of a deceptive pyramid scheme to pay a total of $17 million to refund consumers who were burned by the scam. The court order permanently halts marketing methods used by the operation known as BurnLounge, which lured more than 56,000 consumers from around the country by masquerading as a legitimate multi-level marketing program and making misleading claims about earnings to be made."
And the impact of the ruling was such that other companies in the "MLM-Multi Level Marketing" space saw the clarity the ruling brought to the "issue of paying commissions to distributors purchasing products."
Ultimately, the 9th Circuit upheld the lower court decision in June of 2014.
BurnLounge 9th Circuit Opinion

The Investor
Meanwhile, individual investors were less than impressed, both by the collapse in revenues post FTC ban, and the sales techniques employed.
Consider Brian Dewey.
An individual known to BurnLounge through a mutual acquaintance of investor Grant Johnson, Brian Dewey was cajoled into investing. Benevolent Capital employed sales techniques found at a buy here pay here used car dealership to close the deal, and land an investing whale for the whopping sum of $65,000. A significant amount for your or I, but certainly not the rare climes that the Johnson Boys allegedly bask in. In Dewey v. Johnson (Grant), an investor lawsuit, the following behavior was stipulated: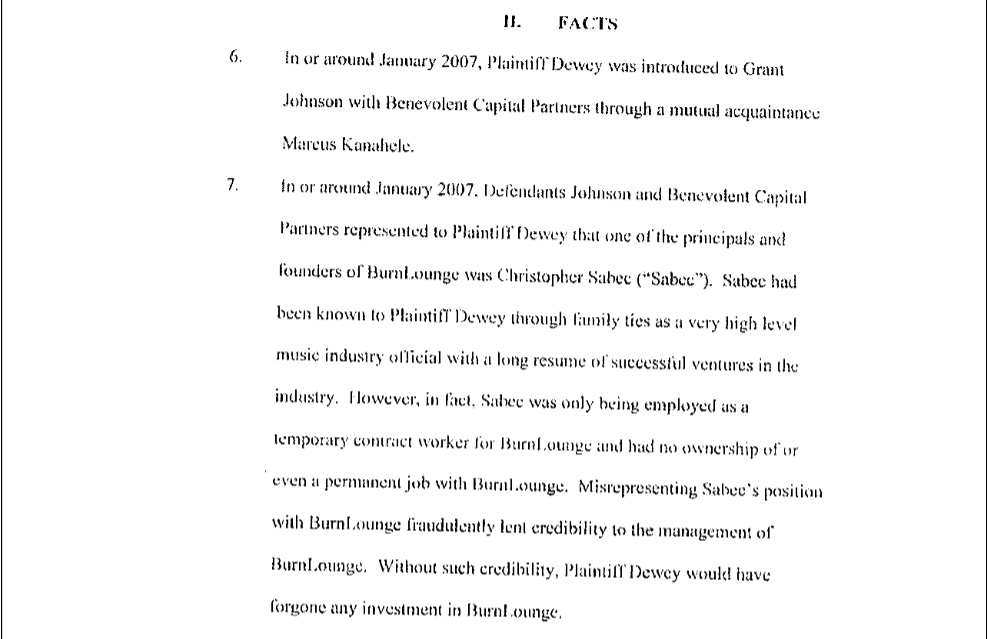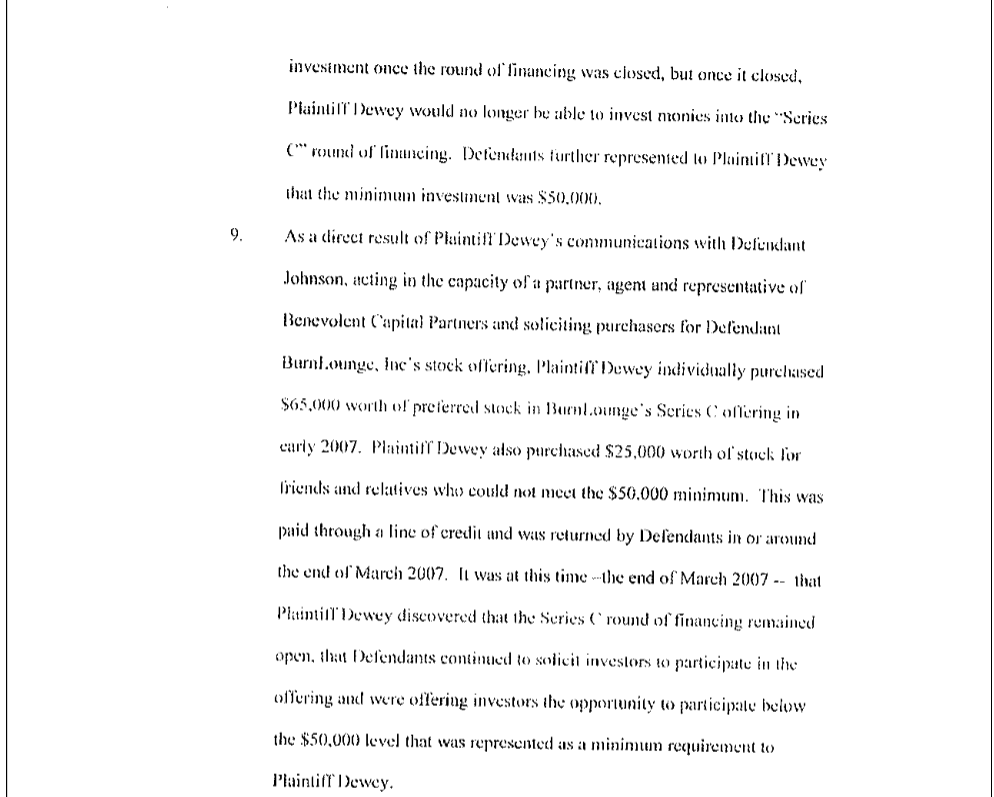 Court Filing Contains Complain By Dewey Against Grant Johnson
Dewey v Johnson Filing-compressed small

Dewey v Johnson Filing-compressed small-part-2

In September of 2008, Mr. Johnson, BurnLounge & Benevolent Partners settled with Mr. Dewey
Finally, in a CNET article, BurnLounge appears to have met their demise … making their managment an ideal candidate for Rhode Island Government.