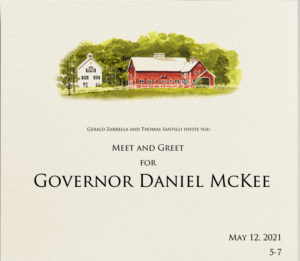 The ascension of Dan McKee to the Governorship of Rhode Island brought high hopes to Moderate Democrats & Centrist (Often Closeted) Republicans across Rhode Island. Frustrated with outgoing Governor Gina Raimondo's clutch on the purse strings of Federal Covid Relief Funds, originally destined for business relief, yet quarantined to provide coverage for a bloated state budget, the cavalry seemed on it's way. A 6 year track record of small business support … a rare display of competancy as a long term Mayor of Cumberland … a proponent of at least some level of School Choice … and a fuzzy, yet seemingly warm support of Second Amendment Rights.
But less than two months in, that record … and support has withered. And yesterday's outright denunciation of power player Gerald Zarrella, and by proxy, the core of centrist business owners in his withering cancellation of a 250/per person fundraiser, might have struck the final blow.
************************************************************************************************
FOR IMMEDIATE RELEASE
May 9, 2021 12:30 p.m. EDT
 CONTACT: Mike Trainor, Campaign Coordinator
mike@miketrainorconsulting.com
 STATEMENT FROM GOVERNOR DANIEL J. McKEE
Once I became aware on Friday afternoon of the details of a fundraising event set for next Wednesday, I asked that the event be cancelled.
I do not want to be associated with Donald Trump in any way, shape, or form. I do not like Trump…he is dishonest, divisive, and his "Big Lie" is a threat to our democracy.
There is no place for a Trump spokesperson to co-host any event I am involved in.
***********************************************************************************************
The Second Amendment
Just days into his formal administration, freshly minted Governor McKee morphed from ""In response to your question on various legislation: The Incoming Governor and his team will review and address such legislation when he takes office. Right now, the Incoming Governor is focused on the COVID-19 response, vaccine rollout and ensuring a smooth transition." to …
"The Lt. Governor has long been on the record in support of banning the sale of military-style weapons, limiting the number of rounds a magazine can hold and preventing civilians from carrying a concealed weapon on school grounds. These are not new policy stances."
A declaration that did not impress ardent Second Amendment supporters, many of whom cited their support for McKee as key in a narrow 2018 primary win over challenger Aaron Regunberg.
The Rhode Island New Green Deal
Over the overt strenuous objects of  Conservative Republicans … and the more closeted ones of Center Right Democrats, McKee, despite earlier reservations, rushed to sign this landmark legislation into law. McKee dismissed opponents reservations that the law would codify the existence of an appointed body's ability to dictate environmental standards, and as a result, the cost/style of living for Rhode Islanders
Taxation of Full Employment Benefits & Partial PPP Loans
McKee firmly holds onto a seemingly intractable belief that PPP Loans, exceeding a certain benchmark, should be taxable … despite the Federal Government's tax exemption … over the protest of business owners, who cite the absence of any sacrifice by State Employee's & Government Leaders. Equally quixotic is McKee's insistence on taxing full unemployment benefits received by Rhode Islanders despite, again, a significant tax exemption provided by the Federal Government for Federal Tax purposes.
We Will Always Have The Barn At Gerald's Farm
The list of invitees reads like a Noah's Ark of center right/moderate power players: Allan Fung …  House Speaker Joe Shekarchi … Susan Sosnowski … Former Senate Finance Honcho William Conley … Dominick Ruggerio … Lou Raptakis amongst 90 or so folks. And this was no sudden "Pop Up" event: Invitations had been received weeks before.
Which begs the ultimate question. Was the pressure from the Progressive Wing to publicly denounce Mr. Zarrella, given his former connections to the Trump Campaign … And/Or to warn Centrist Democrats from allying with same or risk the wrath of the powerful network of political cooperatives, caucuses, & alliances? Furthermore, can McKee, despite his multiple concessions, defeat a united progressive front in a Democratic primary? Will this fragile alliance of Centrists still support McKee, in their eye's the lesser of evils?