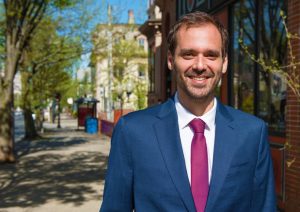 From The David Segal For Congress Campaign:
Prominent Veterans Group Gets Behind The Progressive CD-2 Candidate
David Segal's campaign for Congress has been endorsed by the veteran's group Common Defense.
"The veterans of Common Defense are proud to endorse David Segal," Common Defense said. "David is the only candidate for Congress in Rhode Island's second congressional district who has been fighting against corporate special interests and political corruption on the local, state, and national levels for 20 years."
Upon receiving the endorsement, Segal said:
"I'm proud to have earned the support of Common Defense, with which I've worked to constrain and prevent our involvement in disastrous military conflicts — and which more broadly stands for ensuring that our government and economy create fairer and more just outcomes for everyday Americans."
Common Defense is the nation's largest grassroots veterans organization dedicated to building an equitable democracy and ensuring social, environmental, and economic justice. Their priorities include expanding voting rights, transitioning toward a green economy, reasserting Congress' war powers, and adequately funding our VA.
Segal adds Common Defense to a long list of endorsements from prominent elected officials and groups, including Sen. Elizabeth Warren, the RI Working Families Party, Our Revolution, Friends of the Earth, and many more.
From https://commondefense.us/about/
Who We Are
We empower veterans to stand up for our communities against the rising tide of racism, hate, and violence, to organize against the entrenched power of greedy billionaires who have rigged our economy, and to champion an equitable and representative democracy, where "liberty and justice" truly is for all.
We achieve this through:
Training veterans as grassroots organizers
Growing, organizing, and mobilizing the progressive veteran community
Advocating for progressive legislation at the local, state, and federal level
Mobilizing our 200,000 members to support candidates who share our values
Common Defense is the country's largest veteran-led grassroots organization committed to engaging, organizing, training and mobilizing veterans to elect accountable leaders and promote progressive values in 2020 and beyond.
David Segal is a former member of the Providence City Council and the Rhode Island House of Representatives. He has spent the decade since leaving office building Democratic infrastructure, helping candidates, and organizing around key issues in Rhode Island — while also working to forward the interests of everyday people as an advocate for federal policy changes.