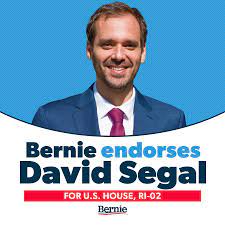 Sanders Joins Sen. Elizabeth Warren, RI Working Families Party, Other Local and National Leaders In Support
From The David Segal Campaign: Sen. Bernie Sanders has endorsed David Segal for Congress.
"David Segal is one of those leaders we need in Congress," Sanders said. "As a legislator and as a grassroots organizer, he has been a champion in taking on corporate interests, breaking up big monopolies and demanding that health be considered as a human right, not a privilege."
Sanders joins a long and growing list of local and national groups and leaders who are backing Segal because he is the candidate focused on addressing the forces — like corporate special interests and political corruption — that block progress on the major issues. That list includes Sen. Elizabeth Warren; State Reps. John Lombardi, David Morales, Brandon Potter, Art Handy; State Sens. Sam Bell and Kendra Anderson; and groups like RI Working Families Party, Communications Workers of America, Friends of the Earth, Progressive Democrats of America, and more.
David Segal said, "Bernie recognizes that ours is the only campaign focused on taking on the corporate special interests and political corruption that rule the day in Washington. We need to fix our system and overcome those forces in order to make progress on issues like affordability, protecting fundamental rights, Medicare for All, a Green New Deal, and so many more."
Sanders' endorsement comes on the heels of recent internal polling that shows Segal surging in important parts of CD-2 ahead of the September 13 primary. With many voters still undecided in the race, Segal is heading into Election Day with important momentum.
David Segal is a former member of the Providence City Council and the Rhode Island House of Representatives. He has spent the decade since leaving office building Democratic infrastructure, helping candidates, and organizing around key issues in Rhode Island — while also working to forward the interests of everyday people as an advocate for federal policy changes.