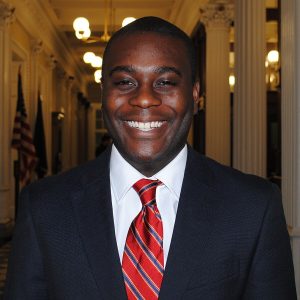 From The Gabe Amo – Congress Campaign
Today, Gabe Amo, candidate for U.S. Congress, announced that The Collective PAC has endorsed his campaign to represent Rhode Island in Congress.
"The Collective PAC is eager to support Gabe Amo's campaign for the United States Congress," said National Political Director Tolulope Kevin Olasanoye. "A Pawtucket native, and Rhode Islander to his core, there is no better representative for the people of Rhode Island than Gabe.
"The Collective PAC will work hard to ensure that Gabe is successful in September and that Rhode Island sends a representative to Congress who has the experience to get things done, stand up to MAGA Republicans, and protect the rights we hold dear: a woman's reproductive rights, the right to be safe from gun violence, and the right to retire with dignity and the benefits you earned. This race is too important for any individual or group to sit on the sidelines – including The Collective PAC. That is why we are excited to get involved and offer our endorsement and support of Gabe Amo for Congress."
"I am grateful to have the support of The Collective PAC, and their endorsement is just another sign of our campaign's momentum," said Gabe Amo. "The Collective PAC is focused on electing leaders who deliver for their communities, and I am grateful for their confidence in me that I will deliver for Rhode Island from day one."
The Coalition Radio Network Will Often Suggest Materials Related To The Article Subject Matter. The Coalition May Receive Commissions From Purchases
The Collective PAC has a track record of success, and "since 2020…have: raised over $30 million; provided over 100,000 free rideshares to/from the polls; registered over 200,000 voters; made nearly 5 million voter contact attempts; invested over $5 million on direct and independent expenditures supporting Black and other candidates…" Notable recent successes include Rep. Emilia Sykes of OH, Rep. Jahana Hayes of CT, and Rep. Joe Neguse of CO. The Collective PAC joins the Congressional Black Caucus PAC, Mayor Xay of Newport, former Biden White House Chief of Staff Ron Klain, and others on #TeamGabe and follows the campaign's announcement of a $225,000 TV ad buy starting Tuesday.