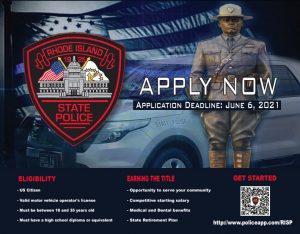 The Rhode Island State Police announces the establishment of a Special Victims Unit within the Detective Bureau. The Special Victims Unit is responsible for investigating cases involving sexual assault, domestic violence, child abuse, child molestation, missing children, sex offender registration violations, commercial sexual exploitation of children, in addition to human and labor trafficking. Detectives assigned to the unit specialize in investigating serious violent crimes against children and other vulnerable populations such as individuals with developmental disabilities and the elderly.
"The Special Victims Unit will aggressively pursue justice on behalf of our most vulnerable victims while being sensitive to the unique needs and dynamics associated with these challenging cases," said Colonel James M. Manni, Superintendent of the Rhode Island State Police and Director of the Department of Public Safety.
Working with state, local, and community partners, including the Attorney General's Office, the Children's Advocacy Center, Hasbro's Aubin Child Protection Center, DCYF, Day One, the Coalition Against Domestic Violence, Law Enforcement Advocates, the Office of Healthy Aging, and the Rhode Island Department of Behavioral Healthcare, Developmental Disabilities, and Hospitals (BHDDH), Detectives will coordinate a collaborative and multi-disciplinary approach to special victim cases and ensure a timely response and greater support to the victims and their families.   
Special Victims Unit Detectives are trained in interviewing victims of trauma and work closely with a Victim Advocate who can provide additional support to the victim as their case moves through the criminal justice system. The agency has also developed a 
soft
 interview room with comfortable chairs and a more relaxed setting than a traditional police interview room which may help a victim feel safer and more comfortable while speaking with detectives.
If you are a victim of a violent crime, resources are available on the 
Victim Assistance Program
 and 
Safe at Home
 sections of the Rhode Island State Police website. If you are in immediate danger, please call or text 911. For non-emergency assistance, please contact the Rhode Island Victims of Crime Helpline at 800-494-8100.