Watch The Video Here:
The Rhode Island Coalition of Wedding & Event Professionals (RICWEP) has released a new training video to help event professionals operate their businesses more safely during the COVID-19 pandemic.
The video, sponsored in part by Rhode Island Commerce, was filmed and produced by Montage Media Productions and photographed by Sara Zarrella Photography. This training video is available in English Click Here for Footage and will soon be made available in Spanish.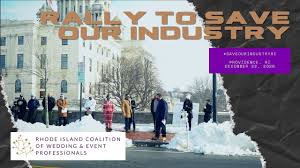 "This is a great partnership with Rhode Island Commerce and the Department of Health, the Department of Business Regulation and the Providence Warwick Convention and Visitors Bureau," said Luke Renchan, of Luke Renchan Entertainment and a RICWEP task force leader. "The video demonstrates how event professionals put RICWEP's phased action plan into action in coordination with the state's public health measures. The enhanced safety protocols lay the foundation for a safer and more successful 2021 for weddings and events in Rhode Island."
"It's important that we find more and more ways for our small businesses to open and operate safely," said Rhode Island Commerce Secretary Stefan Pryor. "We are proud to have partnered with the Coalition of Wedding & Event Professionals as it has worked tirelessly and creatively to produce this video – and to provide support to this professional community. Public health conditions permitting, we will utilize this tool as we work to enable the incremental reopening of this key industry."
RICWEP Task Force Leaders:
Luke Renchan, Erica Trombetti, Mike Henriques, Meagan Peter, Kate DeCosta, Kenneth Ferrara, Faith Dugan
Further Information: https://www.ricwep.org