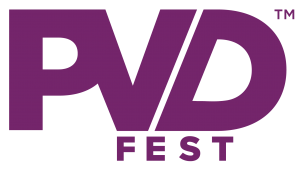 Amid rising COVID-19 cases and hospitalizations in Rhode Island, major downtown festival cancelled
The City of Providence and Founding Partner FirstWorks today announced that due to the rise in COVID-19 cases and hospitalizations, the September 25-26, 2021 major downtown celebration for PVDFest, Providence's signature arts festival, which typically sees over 100,000 people in congregate settings during festival weekend, is cancelled. As of Friday, August 20th, the Rhode Island Department of Health COVID-19 Data Tracker and CDC COVID-19 Indicator of Community Transmission indicates Rhode Island is in high transmission. Smaller PVDFest summer and fall Happenings, as well as PVDFest Ideas programming, continue in outdoor, safety-monitored, city-wide settings in the coming weeks.
"I am sorry to announce that after carefully considering the increased spread of the delta variant, we will forego this year's downtown PVDFest gathering," said Mayor Jorge O. Elorza. "I want to take this opportunity to thank our artists, sponsors and partners who have made PVDFest Happenings a resounding success so far, and encourage all unvaccinated residents to get their vaccine. Together we can beat this virus and return to dancing and celebrating together downtown next year."
Since its inception in 2015, PVDFest has featured over 5,000 artists, performers and curators, and has regularly drawn more than 100,000 attendees annually into the heart of Downtown during festival weekend. A genuinely unique arts festival, PVDFest has grown year after year, providing new and exciting creative experiences that spotlight the Creatival Capital. The festival is produced by the City's Department of Art, Culture and Tourism in partnership with Founding Partner FirstWorks, a Providence-based non-profit.
"FirstWorks has long been dedicated to providing new transformational artistic experiences for our community," said Kathleen Pletcher, Executive Artistic Director of FirstWorks. "Over the past year we had to re-envision our programming in order to continue to support artists and the creative economy throughout the pandemic. We are saddened by the need to cancel PVDFest's September culmination but stand committed to continuing to safely and effectively widen the circle with artists and neighbors to support the cultural, educational, and economic vitality of our community. We are committed to the Festival's future as a showcase of the arts and catalyst for firsts in the arts by extraordinary artists of the Creative Capital."
Smaller, outdoor PVDFest Happenings will continue as scheduled at this time, but in light of the delta variant, masks will be strongly recommended to reduce the transmission of this variant. Additionally, masks and hand sanitizer will be available at all PVDFest events. PVDFest Happenings have been made possible in large part by the generous sponsors who continue to support Providence's creative culture year-round, including the Providence City Council, the Providence Tourism Council, Waste Management, The Boston Globe Rhode Island, Tufts Health Plan, Neighborhood Health Plan of RI, ProvPort, Waterson Terminal Services LLC, Arcadia, WPRI Media Group, Bank of America, Citizens Bank, Delta Dental, New England Foundation for the Arts, Dunkin', Dimeo Construction, Michelob Ultra, AAA Northeast, Bank Newport, Brown University, Coca-Cola Beverages Northeast, JPMorgan Chase & Co., Rhode Island School of Design, RISCA, Customers Bank, Roberts Carroll Feldstein and Peirce Inc., Hampton Inn & Suites Providence Downtown, Washington Trust, Rhode Island Council for the Humanities, Rhode Island Foundation for the Arts, The Promenade Apartments, Kite Architects, Santander Bank, Navigant, BETA Group Inc, Adler Pollock & Sheehan PC, McDonalds, Packaging & More, Regency Plaza, Providence Media, Lamar and The Public's Radio.
"While we must cancel this year's signature weekend, we remain more committed than ever to bringing joy to public spaces through the arts," said Stephanie Fortunato, Providence Director of Art, Culture and Tourism. "Our vision is for all residents and visitors to feel a continuous relationship to arts practice, making, and culture year-round. The spirit of PVDFest can be found every day, in every neighborhood, and we look forward to bringing the full festival back next year."