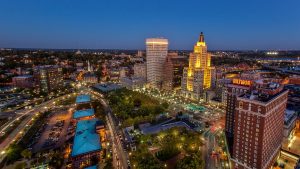 DiPina Currently Serves as Assistant Superintendent of Administration for PPSD
Mayor Jorge O. Elorza today announced Joseph DiPina will serve as the Chief of Operations for the City of Providence, starting September 20, 2021.
"During his time with the Providence Public School District, Joe has worked tirelessly to improve systems and make sure our school district's operations run smoother," said Mayor Jorge Elorza. "As a proven leader, his professional accomplishments demonstrate that he is well prepared for the duties of Chief Operating Officer and I look forward to working with him in this new capacity to ensure Providence continues to be a City that works."
DiPina, a graduate of Classical High School and Providence College, has been serving as Chief of Administration and Assistant Superintendent of Administration for the Providence Public School District since October 2013. In his roles, he has worked diligently to support the day-to-day operations of the school district in a professional, cost-effective manner.
"It has been an exciting journey serving the school district where I graduated as Assistant Superintendent of Administration. As a Providence native, I am energized to step forward into this new role and play a deeper role in the Mayor's initiatives and the City's ongoing progress," said Joseph DiPina.
Current Chief of Operations Sabrina Solares-Hand will be leaving her position with the city to pursue a new career opportunity.
"During her four years with our team, Sabrina has played an integral role in building the strong foundation of work that we have accomplished. I am grateful for her service and wish her well as she begins the next chapter of her career," said Mayor Elorza.