Pawtucket Community Activist David Fargnoli, appointee to the Pawtucket School Committee Superintendent Search Committee, and a former School Committee Candidate who received in excess of 4000 votes, has filed a formal complaint with the Rhode Island Attorney Generals Office, alleging a long list of violations of Rhode Island's Open Meetings Act (()MA)
The charges stem from a recent Grebien-appointee littered Charter Commission Review Committee, which has openly sought to disenfranchise Pawtucket Voters, with a potential ballot amendment that would afford voters the ability to choose between a Grebien appointed school committee, or a "hybrid" model, allowing voters to select a portion of the committee.
Alleged in the complaint! Under notice and/or late noticed Charter Review Committee Meetings … Failure to enter into public comment email communications … failure to acknowledge speakers in public forum … for starters.
Mr. Fargnoli's Complaint:
Good Afternoon RI Attorney General Open Government Unit,
My name is David C Fargnoli, I email you today to submit a Complaint, against the City of Pawtucket, Pawtucket Charter Review Commission, for violations to the RI Open Meetings Act,.made during the August 8, 2023 Charter Review Commission meeting. 
–Alleged violations to the RI Gen 42-46, Open Meetings Act made by the City of Pawtucket and Pawtucket Charter Review Commission are as follows:- 
(1) Publicly denying receipt of my public email outreach to the Pawtucket Charter Review Commission, during the August 8, 2023 Pawtucket Charter Review Commission meeting; 
this taking place after I had received a confirmation email of receipt from the Pawtucket City Clerk, Tracy Giron, who is the only offered email contact for the Pawtucket Charter Review Commission
,
(2)Chairman of the Pawtucket Charter Review Commission denied my request to participate during public speak/participation, this after publicly stating she had not received my email outreach in order to read my email outreach of concerns over the subject on the August 8, 2023 meetings agenda; 
(3)Violations of procedure of an open public meeting: ex: cutting off a public speaker during their allotted speaking time to abruptly adjourn meeting, not calling for or receiving a majority vote in order to properly adjourn a public meeting, violating Robert's Rule and RI OMA.
(4)Violations in public meeting agenda postings regarding Pawtucket Charter Review Commissions meetings held on August 1, 2023 and August 2, 2023 for not providing appropriate details regarding any topics or subjects which were/would be on the agenda, to be discussed or handled during Charter Review Commission as required.
(5)Violation in filing public meeting agenda with RI SOS, regarding the Pawtucket Charter Review Commissions meeting held on August 8, 2023, meeting date, location and time was not filed with the RI SOS 48 hours prior to meeting as required. (Aug 6, 2023 was a Sunday)
(6)No Committee/Commission member contact information available for the present/current Pawtucket Charter Review Commission members available.
(7) The RI SOS and City of Pawtucket websites have contradicting/different member information available to the public regarding the members of the Pawtucket Charter Review Commission.
-My email, dated Aug 3, 2023, to the Pawtucket Charter Review Commission, and Pawtuckets reply confirmation email will be included /attached to this complaint.
-Agendas for Aug 1 an Aug 2 lacking appropriate details on agenda topics, and the Aug 8 agenda, not publicly filed in a timely manner violation. Attached below 
–Pictures of contradicting information regarding current members and lack of contact information present Pawtucket Charter Review Commission members will be attached to this complaint.
–Video link to the August 8, 2023 Pawtucket Charter Review Commission meeting, public participation, which will/can confirm/prove the alleged violations to the RI Open Meeting Act. Last 10 minutes covers alleged RI OMA violations 1, 2 and 3. You Tube link below 
Sincerely,
David Fargnoli 
Important Videos:
Attached Exhibits: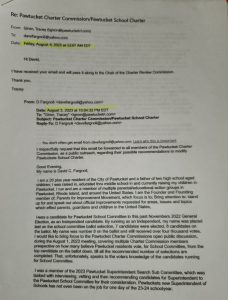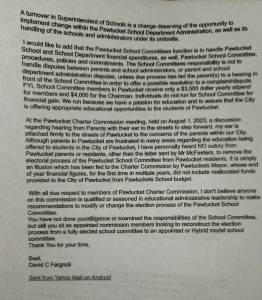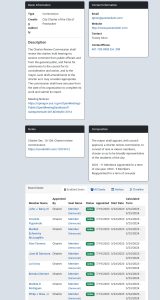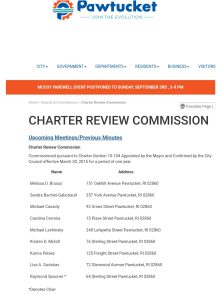 Meeting Videos: