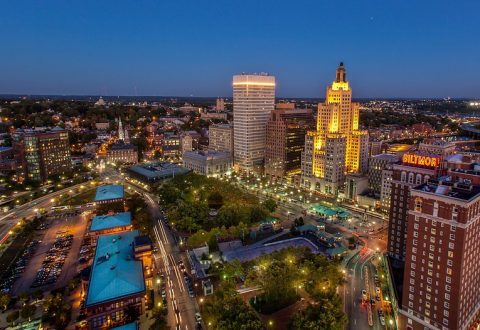 From: The Office of Mayor Brett P. Smiley
Mayor Brett P. Smiley today introduced a new FY24 Capital Improvement Plan (CIP), outlining $132 million of infrastructure investments over the next two fiscal years that will improve the local quality-of-life of residents and help make Providence the best-run city in America. Most investments included in this plan touch upon four main categories: Public Works, Public Property, Public Parks and Public Space (Planning).
"These investments help set Providence on the path to becoming the world-class city it has the potential to be," said Mayor Brett Smiley. "I am incredibly proud to be putting forth a comprehensive plan for the City's infrastructure aligned with our goals to improve city services and make Providence more climate resilient. I look forward to working with the City Council to finalize a plan that invests in every one of our neighborhoods."
The FY24 Capital Improvement Plan is designed to better meet the needs of residents and businesses across the city. When engaged in the Community Satisfaction Survey earlier this year, residents noted the quality of sidewalks as a top concern. This CIP responds to those concerns by proposing $26 million in sidewalk repairs and improving ADA accessibility; over $61 million for road maintenance, street repair, and street resurfacing over the next five years; and $35 million per year for sewers and storm water management. In total, this plan has $51,250,000 in proposed public works investments that add on to the $193,000 invested in sidewalks through the FY24 operating budget and $3 million in ARPA funding used to make repairs to the Fox Point Hurricane Barrier.
Mayor Smiley believes that our public buildings must be welcoming and accessible to provide the best city services to our many residents and businesses. Through this CIP, $47,635,000 will go towards improvements to public safety structures, recreation centers, and publicly owned buildings. That includes $14 million for repairs to City Hall and $25 million for a new Public Works Complex. These investments are further supplemented by infrastructure repairs included in this year's operating budget.
Mayor Smiley also understands the incredible impact our public parks and greenspaces have on our neighborhoods. These spaces are used for learning, offer free summer meals, and support the physical and mental health of our residents. The proposed FY24 CIP would invest $14,880,000 in public parks, which would include repairs to all of our waterparks widely used by Providence families in summer months. These investments build on the $13 million the City has invested across 39 city parks and greenspaces over the last year and $25,000 that was allotted in the FY24 operating budget for Downtown Parks.
Through this Capital Improvement Plan, Mayor Smiley is also investing in street safety, accessibility and citywide climate resiliency. In the proposed FY24 CIP, there is $11,110,000 that would go towards matching federal funding initiatives like the Safe Streets for All Grant ($27.2 million grant; $6.8 million CIP match) and Woonasquatucket River Greenway enhancement ($6.1 million through various funding; $3.95 million City match).
The Capital Improvement Plan is a city document that outlines planned improvements to Providence's public infrastructure over the course of five years. Mayor Smiley's comprehensive Capital Improvement Plan identifies and prioritizes city projects to address the City's long-term infrastructure needs. Many of the investments outlined in this proposed CIP are supported by investments in the City's FY24 budget and those made using American Rescue Plan Act (ARPA) federal funding.