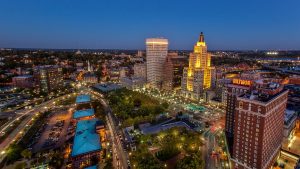 Investments in programming will provide professional development and mentorship opportunities for Providence youth
Mayor Jorge O. Elorza, Councilwoman Nirva LaFortune (Ward 3), and the City's Office of Economic Opportunity today announced that nine providers have been selected to provide year-long youth jobs as part of the City's expansion of the One Providence for Youth jobs program. This expansion, which adds over 450 year-round youth jobs, is part of the City's Anti-Violence Investments, an effort to use American Rescue Plan Act dollars to increase education, employment, and mentorship opportunities for Providence youth and provide necessary supports to decrease the likelihood of youth violence.
"We are excited to expand our youth jobs program so that more young people can stay employed throughout the year," said Providence Mayor Jorge O. Elorza. "By providing meaningful job training and educational opportunities, we are keeping them on the right path and setting our kids up for success. I thank all of our partners, especially our federal delegation that helped create these resources through the American Rescue Plan, for their support."
Through the Office of Economic Opportunity, the City released a request for proposals (RFP) in August inviting established community-based organizations and institutions to apply and serve year-round youth job training and educational opportunities. Through this process, the following organizations have been selected to expand youth jobs: Reentry Campus Program, Federal Hill House WEX and Federal Hill House SL, Refugee Dream Center, Inspiring Minds, Rhode Island For Community and Justice, Comprehensive Community Action Program, Boys and Girls Club of Providence, Providence Housing Authority and Community Action Partnership of Providence County. Organizations will offer students opportunities that complement their school-year academic and afterschool activities by building work readiness skills and exposing students to new career fields.
"It is vital that young people in our city have meaningful opportunities for growth," said Providence Councilwoman Nirva LaFortune. "Social and professional development through jobs and mentorship changes lives and supports a healthier city for all."
One Providence for Youth is a workforce development program for teens and young adults created by Mayor Elorza through the City of Providence's Office of Economic Opportunity. In past years, One Providence for Youth has offered summer jobs and limited year-round job placements. Through an allocation of American Rescue Plan Act (ARPA) funding, the program has now been expanded to offer an increased work experience throughout the school year and offer opportunities to additional students.
"Attaining employment can be directly linked to decreasing youth violence," said Kadeem Leslie, Deputy Director of the Office of Economic Opportunity. "It has been studied nationally and globally—making sure that youth, especially youth of color, have access to job opportunities and equitable wages can help lead to decrease violence in our communities."
The City is offering 800 year-round placements, all with an earning wage of $15 per hour. The Program has maintained an annual $1,000,000 investment for Providence youth and this year allocated an additional $1,000,000 in ARPA funding to grow year-long job opportunities and wages.
The year-round youth jobs RFP was approved by the City's Board of Contract and Supply on September 27, 2021. The City of Providence also recently released two additional RFPs that will be funded using Rescue Plan dollars. The City released an RFP for a new youth mentorship program, as community members, stakeholders, and non-profit organizations have recognized youth employment and access to mentorship as a proven method of deterring youth violence. The second RFP is for a city-wide non-violence training for youth ages 15-24 that will enhance participant's conflict resolution skills and proactively identify interpersonal conflicts between individuals and groups at risk of escalating to violence.