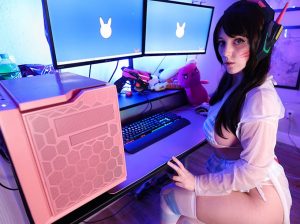 I put on my makeup, make my bed, and set up my lighting, then I turn my camera on and wait for people to enter my cam room. As they roll in, there is the light, casual banter of the beginnings of a cam show.
Someone with a username I don't recognize asks me where I'm from. Another one is apparently looking over my profile and tells me that he can't believe I'm 42. And another one tells me that my red lipstick is intriguing. I respond to their messages: I'm from Pittsburgh; that's flattering, but I'm certainly in my 40s; and I love red lipstick, this particular shade is Retro Red.
When I start responding to these comments, my DMs ping. I open the first one and it says, "Hi sexy, you look beautiful. Can you type a bit too though because I have you on mute – I'm at work."
* * *
I wake up and go for a run. I left just early enough to catch part of the sun rise. The cool, crisp fall air clears my head. When I'm done, I walk in the house, pour a cup of coffee, and start to read my messages. One of my regulars asked if he can say hi to me on cam before he starts his day. "I'm sweaty and in my workout clothes," I tell him. "Just come as you are," he responds.
A few hours later I send him a picture of the outfit I changed into, much sexier than the one I had on earlier in the day. My phone sex line rings, it's him. He tells me that my ass looks great in the lingerie I've put on and asks me to send a link to the store where I bought it; he wants to buy something new for his wife. Then he asks me to hold for a moment. While I can't make out what anyone is saying, I can tell he's on a work call. He answers a few questions and comes back on the line. "Sorry," he says, "So many things happening at once."
* * *
It's a writing day so I'm not intending to talk to clients. Instead, I'm sitting cross-legged on the couch with my hair in a messy bun, working on my laptop. Nevertheless, my texting platform pings. It's a $20 tribute with the following message attached, "Mistress, do I have your permission to go in the work bathroom and cum?"
I think for a moment. Do I grant him permission, or tease him a bit? I look over what I have written so far and realize that I'm on pace to meet my deadlines. I respond, "Not yet, first I need you to prove yourself." I add forcefully, "Sit back down at your desk." He responds, "Yes, Mistress."
I tease him for a couple more hours. I ignore him until he sends me tributes; tell him he's not worthy of my attention in a way that I know drives him wild; and find out how much longer he will be at work. I make him hold out until the last minute and then I grant him permission to cum. The entire day has been an edging session that has been distracting to both of us. He disappears for a few minutes then returns with a tribute and a message that says, "Thank you, Mistress."
* * *
None of these interactions are out of the ordinary for me, in fact, they are so ordinary that I hadn't found it particularly concerning until earlier this week when VICE broke the story that the esteemed New Yorker writer Jeffery Toobin had gotten caught masturbating on a Zoom call between the New Yorker and WNYC Radio. My first thought was, "How could he have been careless enough to let his colleagues see what he was doing?" I was concerned for the bystanders who did not consent to the exposure they received, but not at all shocked by the behavior itself (which isn't to say that I condone it). I know for a fact that many men masturbate or engage in other sexual behaviors while at work­—I'm an online sex worker who primarily works during the day.
A large percentage of my clientele reach out to me from work. While most of them don't take it so far as to actually masturbate while on a work call, it is not uncommon for someone to shut their office door between meetings, or to sneak to the bathroom after getting worked up through cam, picture exchanges, or sexting.  As more and more folks have started working from home, this has meant that the office fantasies have turned into Zoom and working-from-home fantasies. Just last week, for example, I was commissioned to create a clip that simulated a seductive Zoom work call.
I engage in these conversations and fantasies because I am paid to do so, but I am comfortable doing it because I assume that most people are responsible adults who know how to be discrete, get their work done, and not involve people who do not want to be involved. And for the most part, I think this is true. I have been doing this work for 5 years and to my knowledge, I have yet to have someone get caught in the act.
When a CEO tells me that he is in his office wearing lace panties under his suit and suggests that he wishes to be exposed, I understand that it is just a fantasy, and that he certainly doesn't want to blow up his entire life and everything he has built for a momentary thrill. And when the bored project manager has my cam on his second screen while he is supposed to be watching his online training modules, I know that he is just seeking some sexy company and some light flirting in order to liven up the day.
The problem with being sexual while on the clock is not the sexuality itself. In fact, in all of the examples I have given, sexual fantasy, escapism, and engagement is a way to numb the grind of alienated labor in the workplace, a way of reclaiming some of the creative and sexual energy that workplaces tend to drain us of.
More important questions than those of masturbation at work are those of how we choose to be sexual and who we choose to involve. Everyone has a right to go to work and not be exposed against their will to a co-worker's sexual acts.  While my clients engage with me in a respectful and consensual way (while also happening to be at work), Toobin's behavior was problematic and inappropriate because it was careless and did not show the same respect for his colleagues, who did not sign up to interact with him while he was masturbating, and who did not agree to be a part of his sexual encounter.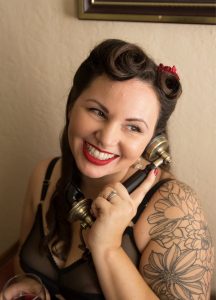 Jessie Sage – she/her  is the managing editor of Peepshow Media, an online magazine featuring news and stories from the sex industry, and co-host of the Peepshow Podcast. Her writing has appeared in The Washington Post, VICE, Men's Health, Hustler, and more. She works in the sex industry as a phone sex operator and indy performer. You can find her on Niteflirt, Sextpanther, Manyvids, and Onlyfans or follow her on Twitter @sapiotextual.