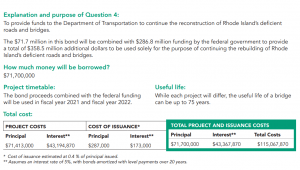 A 71,700,000 Bond Issue. For In recent Rhode Island History, this type of referendum would seem to be a political slam dunk. Instant, easy passage, right?
But it would appear to be anything but. In a lengthy, heart felt analysis, Policy Wonk (high praise if you "Get" The Coalition) Tom Sgouros leads a discussion in the flaws of our current approach to urban planning, mass transportation  & highway design.
A conversation for "Wonks"? Hardly. The path the Rhode Island Department of Transportation (RIDOT) pursues will impact virtually every aspect of life as we know it, here in Lil Rhody, for now, as well as for generations to come.
The Coalition Talk Radio
Outrage Porn Free, Civilly Disobedient Media!
The Coalition Talk Radio! Tues-Friday @ 7PM Till ?
Like us /Watch us @ https://www.facebook.com/TheCoalitionRadio
Home Page: www.CoalitionRadioNetwork.com
Follow Us @ Twitter Coalition_Radio
#FreeRoss