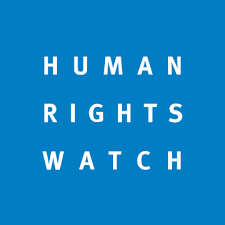 From: Human Rights Watch:
FIFA Broke Own Human Rights Rules for World Cup Hosts
Global soccer governing body FIFA has broken its own human rights rules in announcing a plan for hosting the next two men's World Cups that effectively eliminates bidding and human rights due diligence, Human Rights Watch said today.   On October 3, FIFA announced that the 2030 World Cup will take place in Morocco, Portugal, and Spain with games in Uruguay, Argentina, and Paraguay. Each of these countries has serious human rights violations. In September, the Spanish Football Federation president, Luis Rubiales, was forced to step down after kissing Jenni Hermoso, a Spanish football player and 2023 Women's World Cup champion without her consent. Within hours after FIFA published its arrangements for the 2030 World Cup, Saudi Arabia announced its ambitions to host the 2034 World Cup.

"Barely a year after the human rights catastrophes of the 2022 Qatar World Cup, FIFA has failed to learn the lesson that awarding multi-billion dollar events without due diligence and transparency can risk corruption and major human rights abuses," said Minky Worden, director of global initiatives at Human Rights Watch "The possibility that FIFA could award Saudi Arabia the 2034 World Cup despite its appalling human rights record and closed door to any monitoring exposes FIFA's commitments to human rights as a sham." Human Rights Watch is publishing an annex of FIFA's statutory human rights requirements, including due diligence, bidding to host events, stakeholder consultation, independent human rights monitoring, and remedy. Human Rights Watch also released correspondence about FIFA's lack of due diligence in relation to countries with repressive records hosting events including the FIFA Club World Cup, which begins in Jeddah, Saudi Arabia on December 12, 2023. In February 2023, Human Rights Watch contacted FIFA to request details on its due diligence and stakeholder consultation for selection of future World Cup hosts and awarding commercial sponsorship contracts. FIFA has not responded. Because of regional rotation requirements, the six-country 2030 World Cup means that FIFA will only accept bids from Asia or Oceania for 2034, opening the way for Saudi Arabia to be the host. FIFA instead needs to keep open bidding for the 2034 World Cup and apply the same human rights benchmarks to all bidders in advance of selection, Human Rights Watch said. FIFA's Human Rights Policy, adopted in 2017, outlines its responsibility to identify and address adverse human rights impacts of its operations, including taking adequate measures to prevent and mitigate human rights abuses. Article 7 of FIFA's Human Rights Policy states that "FIFA will constructively engage with relevant authorities and other stakeholders and make every effort to uphold its international human rights responsibilities." This should include consulting a wide range of stakeholders, including potentially affected groups, domestic human rights monitors, athletes, fans, migrant laborers, and unions, before making major hosting decisions. Under FIFA's human rights policies, countries bidding to host games must commit to strict human rights and labor standards. In the introduction to FIFA's "Key Principles of the Reformed Bidding Process," FIFA President Gianni Infantino writes: "Whoever ends up hosting the FIFA World Cup must … formally commit to conducting their activities based on sustainable event management principles and to respecting international human rights and labour standards according to the United Nations' Guiding Principles." FIFA has so far failed to apply these principles in the award of the 2030 and 2034 World Cups. In June, FIFA canceled its planned announcement about the bidding process for the 2030 World Cup, instead announcing that:
in line with the principle of confederation rotation and of securing the best possible hosting conditions for the tournaments, the bidding processes for both the 2030 and 2034 editions would be conducted concurrently, with FIFA member associations from the territories of the Asian Football Confederations and the Oceania Football Confederation invited to bid to host the FIFA World Cup 2034.
arrests of senior FIFA officials. FIFA's Overview of the Bidding Processes document sets a deadline for any member associations to confirm bidding by October 31, 2023, an unreasonably tight deadline for the 2034 World Cup 11 years away that should include national stakeholder consultation and could ultimately cost billions of dollars. Saudi Arabia's appalling human rights record has deteriorated under Crown Prince Mohammed Bin Salman's rule, including mass executions, continued repression of women's rights under its male guardianship system, and the killing of hundreds of migrants at the Saudi-Yemen border. Torture and imprisonment of peaceful critics of the government continues, and courts imposed decades-long imprisonment on Saudi women for tweets. Sex outside marriage, including same-sex relations, is a crime, with punishments including death. Lesbian, gay, bisexual and transgender (LGBT) people in Saudi Arabia practice extreme self-censorship to survive their daily lives. LGBT players and fans visiting Saudi Arabia could face censorship, stigma, and discrimination on the basis on their sexual orientation and gender identity. Independent human rights monitors, journalists, women's rights activists, and other peaceful critics are jailed, under house arrest, and cannot safely work in Saudi Arabia. Saudi Arabia has severe restrictions on journalists and free expression, a basic requirement for World Cup hosts, Human Rights watch said. In October 2018, Saudi agents murdered and dismembered the Washington Post columnist Jamal Khashoggi, who had been critical of the Saudi government, an assassination apparently approved by the crown prince himself. "In Saudi Arabia, independent human rights monitoring is not possible due to government repression. This makes it effectively impossible for FIFA to carry out the ongoing monitoring and inspection of human rights its human rights policy requires," Worden said. While welcoming the Saudi bid to host the World Cup in 2034, FIFA has not said anything about how it proposes to assess its human rights conditions. Human Rights Watch has been documenting migrant worker abuses in Saudi Arabia for 25 years. Despite some reforms to Saudi Arabia's labor laws and kafala (sponsorship) system in 2021, migrant workers continue to face serious abuses including exorbitant recruitment fees, wage theft, and inadequate heat protections. Absconding, leaving a job without permission, is criminalized even when workers are trying to escape abuse, opening the way to misuse of the provision by employers. Labor reforms have neither been sufficient nor strictly enforced, risking grave abuses. "With Saudi Arabia's estimated 13.4 million migrant workers, inadequate labor and heat protections and no unions, no independent human rights monitors, and no press freedom, there is every reason to fear for the lives of those who would build and service stadiums, transit, hotels, and other hosting infrastructure in Saudi Arabia," Worden said. FIFA has a long track record of ignoring human rights protections in its decision to award World Cups. FIFA failed to uphold its own human rights standards for the World Cup it granted to Russia in 2018, leading to 21 workers dying during Russia stadium construction, according to Building Workers International (BWI). In its June 2018 report "Foul Play," BWI wrote: "most of these deaths were because of falls from heights or because of heavy equipment falling on workers, tragedies that could have been averted if safety and health conditions were enforced." At least 110 North Korean forced laborers constructed World Cup stadium Zenit Arena in St. Petersburg, a venue for the 2018 World Cup Finals. Neither Qatar or FIFA has compensated families of thousands of migrant workers who died or were seriously injured building and servicing the 2022 World Cup in Qatar, including stadiums, transit, hotels, and other infrastructure. Qatari authorities failed to investigate the causes behind thousands of migrant workers deaths since 2010, which were regularly attributed to "natural causes" or "cardiac arrest." This left many families of migrant workers ineligible for compensation under Qatari labor law. Migrant workers even died from falls while working during the tournament – unprecedented in World Cup history.  "FIFA is failing in its responsibility to the world of football to conduct World Cup bidding and selection procedures in an ethical, transparent, objective, and unbiased way," Worden said. "If there's to be any integrity in what remains of this process, FIFA needs to immediately delay and open the bidding process for the 2034 World Cup, make public its labor, human rights, and environment policies, and then make sure protections are fully carried out."
The last time two World Cups were awarded concurrently, Russia and Qatar, both governments that are serious human rights abusers, were selected to host in a process stained by corruption and