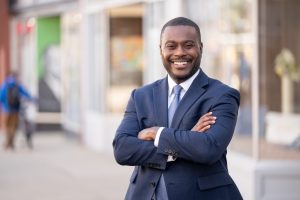 From The Gabe Amo For Congress Campaign:
 Today, Central Falls Mayor Maria Rivera endorsed Gabe Amo, the Democratic nominee for Congress in the special election for Rhode Island's First Congressional District.
Mayor Rivera has been Mayor of Central Falls since 2021 and is the first woman and first Latina mayor in the State of Rhode Island. Rivera's Administration has focused on creating more affordable housing in response to the extreme housing shortage exacerbated by the COVID-19 pandemic, tackling the city's child lead poisoning crisis head-on, and creating the city's first one-stop community center to better support the mental health and welfare needs of residents.
"When I came into office as a new mayor with many new ideas for our city, Gabe went above and beyond to make sure I had access to resources, opportunities, and connections to key leaders that could help amplify our important work in Central Falls," Mayor Rivera said. "Through his hard work at the White House, he's supported leaders across the country – and I know he will continue finding ways to collaborate, listen, and advocate as an important Democratic leader in Congress.
"Gabe always reminds me of his belief in the work I'm doing, and I believe in Gabe. His ability to bring people together, find common ground, and inspire change are some of the important reasons why he will be the next leader representing us in the First Congressional District, helping Rhode Island and our nation move forward."
"I am grateful to have the support of Mayor Rivera," said Gabe Amo. "I know that, together, we will move Rhode Island forward.
"As Rhode Island's next congressperson, I will continue the work I did in the White House for President Biden and will work closely and collaboratively with mayors across the First District to ensure that they have the resources they need from the federal government to serve all of our constituents."