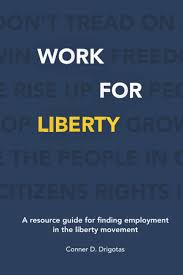 Conner Drigotas: We Talk Liberty .. Media .. Messaging .. Trump .. His New Tome: Work For Liberty!
What Do You Think? Please respond in the comments below. And a favor? If you find our work informative, thoughtful, and maybe just a little? controversial?
Don't forget to purchase Work For Liberty here!
Please take a moment to subscribe to this YouTube Page.
The Coalition Talk Radio Watch Live @ www.Facebook.com/TheCoalitionRadio or www.CoalitionRadioNetwork.com Outrage Porn Free Civilly Disobedient Media!
The Coalition Talk Radio! Sunday-Friday @ 8:30PM Till ? Listener Call In @ (401) 205-3738 Like Us @ https://www.facebook.com/TheCoalitionTalkRadio Follow Us @ Twitter Coalition_Radio #FreeRoss