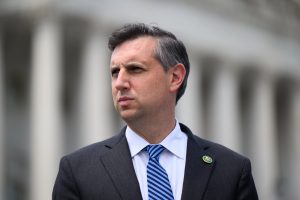 All Statements Are Credited To Representative Seth Magaziner:
Statement from Rep. Magaziner on the Motion to Vacate the Speaker:
"I voted — along with the majority of the House of Representatives — to change the leadership of the House because I do not believe that Rhode Islanders support the agenda of deep cuts to education and health care, criminalizing abortion, and extreme partisanship that Kevin McCarthy has advanced. I came to Washington to work in a bipartisan way to support working Rhode Islanders and I hope that the House will move quickly to elect a new Speaker who will work with both parties to move our country forward."
Magaziner Secures House Passage of Funding for New Emergency Operations Center in Warwick
Today, Representative Seth Magaziner (RI-02) celebrated the House passage of his funding request to ensure a modern, fully operational Emergency Operations Center (EOC) for Warwick's nearly 83,000 residents that will improve emergency response in the event of a natural disaster or incidents affecting the well-being and security of the community. `
The $530,437 in federal funding requested will be used to relocate the 70-year-old Warwick Fire Department's Emergency Operations Center to the Department's newest station in the Potowomut neighborhood and ensure the EOC is equipped with state-of-the-art security measures and upgraded equipment. This community project funding request passed in H.R. 4367, The Department of Homeland Security Appropriations Act.
"When Rhode Islanders are in danger, they deserve swift assistance, and this federal funding for the Warwick Fire Department will improve emergency response times to keep Warwick residents safe," said Rep. Seth Magaziner. "I am committed to supporting first responders in Congress and ensuring they are equipped with the tools they need to do their jobs safely and effectively. While I could not vote for H.R. 4367, which contained funding cuts in other areas that I disagree with, I am glad that my funding request for the Warwick EOC was included."
"The Warwick Fire Department is grateful for Representative Magaziner's efforts to help secure federal funding to improve delivery of life-saving services for our communities," said Warwick Fire Department Chief Peter McMichael. "This funding will help equip local first responders with the resources they need to respond to emergencies quickly and effectively."
The City of Warwick's EOC is currently located in a facility that suffers from structural, logistical, and security issues that have been extremely costly to address over time. The current site also lacks the security infrastructure to prevent disruptions from an act of terrorism or catastrophic weather event. This funding request will be used to relocate the EOC to a modern, state-of-the-art facility and purchase equipment – including Emergency Reporting Signal Receiving Equipment, radio communication consoles, and computer server, among others – to keep Warwick residents safe.
Magaziner Celebrates $1 Million in Federal Funding to Expand Warwick Health Center Service
Today, Representative Seth Magaziner (RI-02) applauded a $1 million grant for Comprehensive Community Action's Everett C. Wilcox Health Center in Warwick. This federal funding, requested by former Rhode Island Representative James Langevin, was awarded by the Department of Health and Human Services to meet growing demands for health services at the Wilcox Center and increase patient intake.
"Rhode Islanders deserve nothing but the best care, and I am fighting in Congress in furtherance of this mission," said Rep. Seth Magaziner (RI-02). "This federal funding will be used to construct a new building to ensure working people receive high-quality, timely, and accessible patient-centered care. I want to thank former Representative James Langevin again for securing this funding for our state."
"We are so grateful to both former Congressman Langevin and Congressman Magaziner for shepherding this request through the many channels of government," said Joanne McGunagle, President and CEO of Comprehensive Community Action. "This funding will go towards the construction of a new health center for the City of Warwick. The project could not reach completion without this appropriation."
The Wilcox Center is an open access point for health care for uninsured, underinsured and publicly insured Rhode Island residents. During the COVID-19 pandemic, the Wilcox Center provided health and dental services to over 6,000 patients. By expanding its primary care capacity, the Wilcox Center can generate more internal and external program referrals, ultimately benefiting Rhode Islander health outcomes.
This project will also help provide integrated health services to more Rhode Islanders including primary care, dental care, social work, behavioral health and substance treatment, all within the same location. This grant will be awarded over the next three years and will then remain self-sufficient through its status as a federally qualified health center (FQHC).