A Providence Councilperson endorses a Mayoral Candidate … Another Councilperson grows his team … A new Head Honcho at The Rhode Island Council On The Arts! … a major Union Endorsement for a Gubernatorial Candidate … Read on Vo Disland!
Ward 2 Councilwoman Helen Anthony Endorses Councilwoman Nirva LaFortune to be Providence's Next Mayor
Team Nirva is proud to announce that Councilwoman Helen Anthony, Ward 2's representative on the Providence City Council, is endorsing Councilwoman Nirva LaFortune to be Providence's next Mayor.
During her time on the Council, Councilwoman Anthony has been an advocate for ethical, transparent, and cooperative government, a champion for coming together to find solutions to our City's pressing fiscal challenges, and a close colleague, collaborator, and friend of Councilwoman LaFortune.
Both Councilwoman Anthony and Councilwoman LaFortune have served on working groups tasked with finding solutions to our City's pension crisis. Each knows the importance of stabilizing Providence's finances and improving the short- and long-term fiscal health of our City.
"I support Nirva LaFortune for Mayor because the City of Providence needs her. I have worked with Nirva for the past four years, and I have seen her dedication, her dynamism, and her commitment to developing good public policy. Most importantly, Nirva is beholden to no one. We need change. We need a Mayor that will stop the old school, transactional politics that have held Providence back. Nirva is that person.
Nirva's experience as a single mom of two Providence public school children, as an administrator in higher education with a Master's degree in Urban Education Policy, and as a city councilor for the past five years speak directly to her ability to represent the people of Providence. Please join me in voting for Nirva for Mayor."
-Councilwoman Helen Anthony
"I am thrilled that Councilwoman Helen Anthony is joining #TeamNirva today. I have long found our partnership on the City Council to be productive and focused on making progress for our wards and the City as a whole. Helen understands that government works best when it is open to the people and provides the opportunity for community input. I look forward to working with her and her Council colleagues as Mayor and being creative and pragmatic in our approach to the issues facing Providence.
-Councilwoman and Mayoral Candidate Nirva LaFortune

TEAM GONCALVES GROWING WITH MOMENTUM AND PURPOSE
The re-election campaign team of Ward One City Councilman John Goncalves is growing.
The most recent addition is Jessica Daltorio, who with Chris Vanderpool, are co-field organizers. Daltorio, a recent URI graduate, is returning to Team Goncalves while Vanderpool, a Brown University political science student, comes to the team with experience from campaigns in-district and nationally .
National award winning writer Alisha A. Pina, who worked at the Providence Journal for nearly 22 years, is Goncalves' press secretary. The BIPOC leader also had a stint as Chief of Public Affairs for the State of Rhode Island and now runs a successful marketing, communications business.
The team is led by Campaign Manager Kristina Contreras Fox. Fox, a former Vice President of the Young Democrats of America, previously served as Senior Policy Analyst at the RI Coalition to End Homelessness. She has managed many successful state and local campaigns, and worked as Field Director for Mayor Jorge Elorza in his inaugural run.
"I am so proud of this team, and the dedication they share with me for the community and moving Providence forward," said Councilman Goncalves. "With our scores of volunteers, we will continue to be a grassroots-led and people-focused team that delivers meaningful and needed results."

Governor McKee and RI State Council on the Arts Announce New Executive Director for the State's Arts Agency
Governor Dan McKee and the Rhode Island State Council on the Arts (RISCA) today announced Lynne McCormack of Cranston as Executive Director of RISCA.
"Throughout Lynne's career, time and time again she has proven her passion and commitment to the arts and culture community in Providence, our state and nationally," said Governor McKee. "Under her leadership and with her experience, diligence, passion and consistency, our State's Arts Council will continue to thrive and grow. On behalf of Rhode Island, I welcome Lynne to her new role."
McCormack is a veteran arts, culture and community development leader having served as the National Program Director of Creative Placemaking for Local Initiatives Support Corporation (LISC), a national nonprofit community development financial institution that supports community development initiatives throughout the country.
Prior to joining LISC, McCormack was Director of Art, Culture + Tourism in the City of Providence, serving five mayors and taking charge of the city's first comprehensive cultural plan in 2009. During her tenure with Providence, she forged partnerships throughout government that resulted in a summer youth workforce development program; planning and zoning policy changes and increased funding for artists; designers and organizations through CDBG, HUD, transit and economic development funds.
"I am thrilled to return to service to Rhode Island's arts and culture community. I recognize the incredible work that the staff of RISCA has done throughout the pandemic, and it will be a pleasure to work alongside such a wonderful team. I am grateful to the Council and search committee for the community engaged and thoughtful process, which they used during the search," said Executive Director McCormack. "Rhode Island's arts community is among the most diverse and connected in the nation. I am looking forward to serving Rhode Island in this leadership position."
"On behalf of the State Arts Council, we are thrilled to welcome Lynne as the new Executive Director. After an exhaustive nationwide search, the search committee, which was made up primarily of members of the community, were so impressed with the work that Lynne has done nationally in assisting communities, especially those under-represented, through her work with LISC," said Libby Slader, Chair of the State's Arts Council. "Lynne's experience in the arts and especially her leadership centered on diversity, equity and inclusion make her the perfect person to assist the staff and the Council in executing the new strategic plan at RISCA."
RISCA is a state agency supported by appropriations from the Rhode Island General Assembly and grants from the National Endowment for the Arts, a federal agency. The agency provides grants, technical assistance and staff support to arts organizations and artists, schools, community centers, social service organizations and local governments to bring the arts into the lives of Rhode Islanders.
Said Renée Elizabeth Neely, a visual artist and independent scholar, "After a very rigorous selection process of scaling down almost 70 candidates for the position of Executive Director of RISCA, we selected Lynne. This was an intense and thorough collaboration, and I am very proud to have served with all members of the selection committee.
"What impressed me the most about Lynne were not the accolades surrounding her many years of dedicated service to Rhode Island's arts and culture communities or her impressive work in the national arts sector – it was the comments of those who worked with and knew her: That she is not afraid to face challenges; that she is loyal and forthright in recognizing her staff within and outside of the organization; that she is a fierce leader and kind," said Neely. "Most importantly that she is an accomplice – not an ally – in assisting the BIPOC community. Lynne was chosen as the best leader for RISCA now, and for its progressive future. I am honored to have served on the Search Committee to make this important decision for our State."
About Lynne McCormack, arts, culture and community development leader:
McCormack served as the national program director of creative placemaking for Local Initiatives Support Corporation from 2015 to 2022. During her tenure at LISC, the nation's largest community development intermediary, she led the integration of arts and culture into community development by creating programs, developing learning networks and supporting local LISC offices in leveraging over $30 million in loan funds towards cultural facilities and artist housing. She also designed and implemented the Our Town Creative Placemaking Technical Assistance Program for the National Endowment for the Arts. This model program serves arts organizations and their government partners to better implement their grants, create systems change and enhance long term community partnerships. At LISC, she was a founding member of the racial equity learning group and led diversity, equity, inclusion & justice (DEIJ) initiatives on the economic development team. She also served on the LISC DEIJ council, representing national programs.
She began her 18 years of service to the city of Providence as production coordinator in the Providence Parks Department, working on the iconic Convergence International Arts Festival and other city events.
When the department of art, culture + tourism was established, she was named deputy director and designed the Neighborhood Parks Performing Arts Initiative and directed operations for Sound Session music festival among other duties. She secured multiple grants from the National Endowment for the Arts that led to the establishment of PVD Fest and served on the board of the Providence/Warwick Convention and Visitors Bureau for close to a decade. Additionally, she worked closely with Americans for the Arts and The U.S. Conference of Mayors.
A trained video artist, Ms. McCormack earned her BFA from Rhode Island School of Design and continues to employ creative practice and design-based thinking in her work as an arts administrator.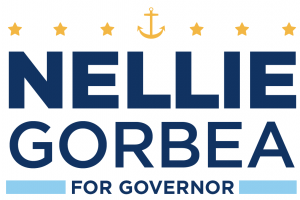 Thursday, the United Food and Commercial Workers Local 328 announced their endorsement of Secretary of State Nellie Gorbea for Rhode Island governor. The endorsement shows that working Rhode Islanders believe in Gorbea's vision for a state with a growing economy that is more equitable and just.
"Many politicians will talk the talk during an election year. Nellie walks the walk when it's not election time," said UFCW Local 328 President Tim Melia. "She was with us multiple times during the Stop & Shop strike, walking the picket line, talking to striking workers, and offering her continued support throughout the ordeal. Now it's UFCW's time to return that loyalty and support her to be the next governor of Rhode Island. We look forward to a Gorbea administration that focuses on working people who are being challenged in today's uncertain times."
"I'm proud to have earned the endorsement of the UFCW Local 328 for governor," Gorbea said. "I'm thankful to have the support of many essential and frontline workers who help keep our economy, health care facilities, transportation, and banks functioning day in and day out. I will continue advocating for our working families who deserve safe working conditions, fair wages, and good benefits."
Momentum continues for Gorbea as the UFCW Local Union 328 join the Carpenters Local 330, United Steelworkers Local 12431 out of District 4, the Rhode Island Association of Democratic City and Town Chairs, and the Barrington, Bristol, East Greenwich, Scituate, and Warren Democratic Town Committees in their endorsement of Gorbea for governor.
About Nellie Gorbea:
Nellie Gorbea is a Democratic gubernatorial candidate. As the current Secretary of State, Gorbea made history becoming the first Hispanic elected to statewide office in New England. She has cracked down on special interest lobbying, modernized our elections, and powered a 40% increase in small business growth during the pandemic. Gorbea is rooted in Rhode Island, having served on the boards of directors for many community organizations. Gorbea was the first Executive Director of HousingWorks RI. Gorbea is a graduate of Princeton University and Columbia University. She lives with her family in North Kingstown.
About:
United Food and Commercial Workers (UFCW) Local Union 328, represents 11,000 workers in a variety of industries in Massachusetts and Rhode Island. Local 328 serves the needs of workers in a myriad of industries including retail food, institutional food, healthcare, banking, transportation and cannabis.