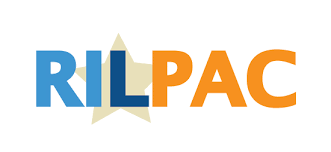 The Rhode Island Latino Political Action Committee (RILPAC) proudly announces its 2021-2023 Board of Directors:
 Melitzi M. Torres – President
Maribel Echeverry McLaughlin, Esq. – Vice-President
Victor Regino – Secretary
Sylvia Bernal – Treasurer 
Patricia Socarras – Member at Large 
Juanita Montes de Oca – Member at Large
Maria Cruz – Member at Large
Katya M. Rodriguez Roman – Member at Large
Tomas Avila – Member at Large
Twenty-two years ago, a group of young Latinx professionals gathered to form the Rhode Island Latino Political Action Committee in response to Rhode Island's then-growing Latinx population. More than two decades later, RILPAC continues to pack punch in Rhode Island's political landscape. Two years ago, during their twentieth year in operation, the outgoing board anchored by President, Joseph Molina Flynn, Esq., and Vice-President, Marcela Betancur, celebrated a fundraising win for the group and announced that they had raised more than $27,000.00 in political donations during their first year leading the group.
Joseph and Marcela released the following joint statement: "We are extremely proud of the work we have accomplished over the past three years. We are grateful to our board members and general membership who committed with us to continue to advance RILPAC's legacy."
We look to the new board with excitement for what they will accomplish. We are further encouraged by the fact that two Latinx women will lead the new board. Notably, this is not the first time the organization has been led by two Latinas, a community often ignored and excluded from political participation. RILPAC's past female leadership teams are: Secretary of State Nellie Gorbea and Melba de Peña (2000-02), Providence City Council President Sabina Matos and Doris De Los Santos (2008-10), and Doris De Los Santos and Ysa Luna (2010-12). Thus, the organization has a history of empowering Latinas to demand their deserved position at the political table.
This year has highlighted more than any other the importance of RILPAC's work. Rhode Island's Latinx community continues to be victimized by inequities, particularly in education and healthcare. The ongoing COVID-19 pandemic has taught us that we can no longer accept the status quo and we must demand more from those whom we have elected to represent us. We know that Melitzi & Maribel's backgrounds will inform their approach in tackling these critical issues."
About RIL★PAC
RILPAC is a nonpartisan political action committee that educates elected officials, political leaders, and candidates in the concerns and priorities shared by Rhode Island Latinos; takes a stand on issues that impact the State's underrepresented communities; and supports candidates committed to improve the quality of life for Rhode Island Latinos.