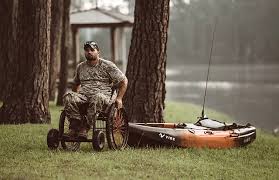 Ben Huntzinger CEO & Founder of Spartan Wheel Chariot, manufacturers of outdoor all terrain wheelchairs joined RAMP Host Tina G. Pedersen in a wide ranging conversation!
Find Out More @ https://www.spartanwheelchariots.com/
Join RAMP, Real Access Motivates Progress! & Host Tina G. Pedersen on The Coalition Radio Network, at www.CoalitionRadioNetwork.com or www.Facebook.com/TheCoalitionRadio Wednesday Evenings @ 7PM Eastern Time
The Coalition Talk Radio Watch Live @ www.Facebook.com/TheCoalitionRadio or www.CoalitionRadioNetwork.com
Outrage Porn Free Civilly Disobedient Media!
The Coalition Talk Radio! Sunday-Friday @ 8:30PM Till ? Listener Call In @ (401) 205-3738 Like Us @ https://www.facebook.com/TheCoalitionRadio Follow Us @ Twitter Coalition_Radio #FreeRoss