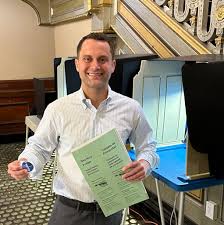 From The Office of the Rhode Island Senate President:
President of the Senate Dominick J. Ruggerio today announced anticipated leadership and staffing changes to be made official following the special election for Senate District 1 on November 7.
The Senate President plans to appoint Senator Valarie J. Lawson as the next Senate Majority Whip.
Senator Lawson currently serves as Deputy Majority Leader; Vice Chairwoman of the Senate Committee​ on Rules, Government Ethics & Oversight; Secretary of the Senate Committee on Health & Human Services; and Secretary of the Senate Committee on Special Legislation & Veterans' Affairs.
A Democrat representing District 14, East Providence, Senator Lawson was first elected to the Senate in 2018. She has been an active voice on a range of issues, including education, public health, protections for senior citizens, and the East Providence community.
"Senator Lawson is already a valued member of our leadership team, providing counsel on matters ranging from politics to policy. She has earned the respect and admiration of her colleagues in the Senate. While no one can replace our beloved Maryellen Goodwin, I know that Val Lawson will make an exceptional Majority Whip," said President Ruggerio.
Anticipating the election of Chief of Staff Jacob Bissaillon to Senate District 1, President Ruggerio also announced transition plans for the Chief of Staff position.
 Video: RI Senate D1 Debate! Jake, How can you be the "Outsider Reform Change Agent" if you're the consummate insider?
John E. Fleming, the current Secretary of the Senate, will be named Chief of Staff at the appropriate time.
"Of course, there is an election between now and then – but I have great confidence that Jake will be successful in his campaign. I know that all of us who have had the privilege of working with Jake recognize and appreciate his dedication to our state, his tremendous intellect, and his tireless work ethic. These same qualities will serve the people of District 1 well," said President Ruggerio.
"After the election, when Jake steps down from his role as Chief of Staff to take on his new duties as a state senator, John Fleming will be named the Senate's next Chief of Staff. I am very grateful to Jake for all he has given of himself to the Senate and to Rhode Island, and I have every confidence that John will provide admirable leadership in his new capacity as Chief of Staff."
John E. Fleming is currently Secretary of the Senate and Deputy Chief of Staff. He previously served as a legislative analyst for the General Assembly; as Deputy Secretary of State and Chief of Staff to the Secretary of State A. Ralph Mollis; and as Chief of Staff to North Providence Mayor Mollis. He studied Political Science at the University of Rhode Island.
As part of the anticipated transition, Deputy Chief of Staff Michael DeAngelis will also take on expanded duties.
"I have tremendous confidence in each of these individuals – and in all the Senators and Senate staff members – to provide the guidance and leadership we need as the Senate continues its work to improve our state," said President Ruggerio. "Together, this Senate will continue to lead the way to a stronger, more prosperous state."
Senate Majority Whip Maryellen Goodwin, who represented District 1 in Providence, passed away in April following a battle with cancer.