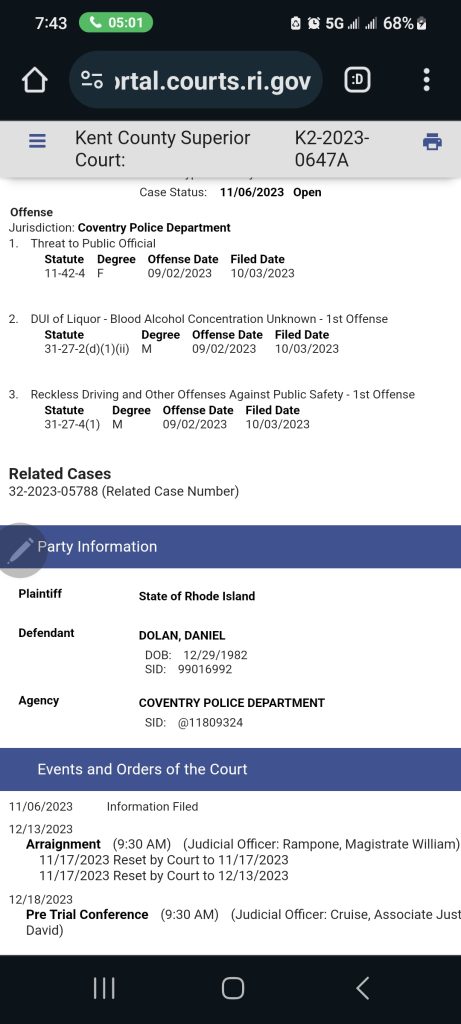 FLASH! IS A LEOBOR DEAL IN THE WORKS FOR PAWTUCKET POLICE OFFICER / CHILD SHOOTER PAWTUCKET POLICE OFFICER DANIEL DOLAN? WILL HE BE ALLOWED TO RETIRE IN EXCHANGE FOR …. ?
WOULD A "RETIREMENT" or "RESIGNATION" ALLOW DOLAN TO WORK AS A POLICE OFFICER ELSEWHERE?
Rumors are flying, from multiple off the record sources, that the Dolan Defense Team is attempting to negotiate a deal that would allow the embattled Cop to Retire/Resign before being fired under the now discredited Law Enforcement Bill of Rights (LEOBOR) … with initial conversations, incredibly, centered on some sort of cash payout to Dolan. (Note: The extra-legal gag order that effectively surrounds a LEOBOR proceeding renders confirmation of virtually any fact set nearly impossible)
Dolan is under fire for his near assassination of a Rhode Island teenager Dominic Vincent in June of 2021. A Jury Trial found Officer Dolan not guilty, but a virtual barrage of administrative violations, compounded by illegalities including driving an unregistered vehicle, have prompted the attempt to fire him.
Factors pointing in the direction of a settlement: Incredibly, the Arraignment for the Felony Threatening Charge brought as a result of behavior at the Coventry Police Holding Cell, has been continued, again … for the second time just this week, to December 13, 2023 … a full 3 + months since his initial arrest in September. Initially, these continuances were thought to have been a consequence of an alleged visit to a substance abuse recovery facility. With activity recently appearing on his social media, and the placement of his home in Coventry for sale, Officer Dolan appears to have resumed local residence. With the LEOBOR hearings set to start this morning, September 17, does stalling proceedings point to a Plea Deal that may include dropping the charges?
And Mayor Grebien himself stated, in an interview just before the Special Congressional Election, that Dolan "Could Retire Tomorrow".
The Felony continuance immediately followed a continuance of a Failure to Test Charge Hearing at the Traffic Tribunal, until Mid-December. Of interest? Both cases will ultimately be prosecuted by the Office of the Rhode Island Attorney General.
Finally? An eerie silence has suddenly descended upon the proceedings. Whereas there was chatter … conversations …. ruminations … All now is quiet.
Of Note:
These constant continuances are not without human cost, particularly to families and friends of his victims. The uncertainty of hearing dates, and when the actual LEOBOR hearing testimony will take place are taking their toll. 
Pawtucket Police Officer Dolan has run through 3 series of "crime clusters". The shooting of Mr. Vincent … a Domestic Charge, since dropped by his Spouse, and the Coventry incident in September. In all 3 cases, Officer Dolan, despite the presence of Felony Charges in 2, has been allowed to self-report for arraignments, and is continuing to receive full pay from the Pawtucket Police Department, under the direction of Pawtucket Mayor Donald Grebien.