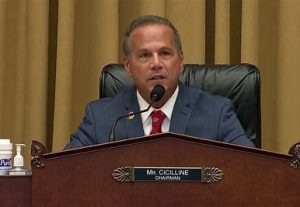 From The Desk of Rhode Island Congressman David Cicilline (D1):
House Sends Bipartisan, Bicameral Bill toBroaden War Crimes Jurisdiction to President's Desk
Today, following Ukrainian President Volodymyr Zelenskyy's joint address to Congress Wednesday evening, the House of Representatives voted to update war crimes law to ensure that alleged war criminals cannot find safe harbor in the United States.said Congressman Cicilline. "War criminals should never be able to escape justice in the United States," said Rep. Spartz. "I was proud to co-lead this bipartisan, bicameral legislation with Rep. Cicilline and I am grateful to my colleagues for voting to close this loophole for good."    Current law allows for the prosecution of people who commit war crimes in the United States or against Americans abroad, but violators who targeted non-Americans are not subject to the law even after they enter the United States. The Justice for Victims of War Crimes Act expands the original war crimes jurisdiction to include war criminals found in the United States, even if they never targeted U.S. nationals.
  Passed by a unanimous vote in the House and Senate, the Justice for Victims of War Crimes Act (S.4240/H.R.7818) will update current war crimes statute to enable prosecution of war criminals in the United States regardless of the location or targets of their atrocities. The bill also eliminates the statute of limitations for certain war crimes.   The bill was introduced in the House of Representatives by Congressman David N. Cicilline (D-RI-01), senior member of the House Judiciary and Foreign Affairs Committees, and Victoria Spartz (R-IN-05) and in the Senate by Senators Chuck Grassley (R-IA), Dick Durbin (D-IL), Lindsey Graham (R-SC), and Patrick Leahy (D-VT). The legislation now heads to President Biden's desk.   "We cannot allow the United States to be a safe haven for war criminals to avoid accountability. With this legislation, we will ensure that any person present in the United States, regardless of nationality, can be brought to justice for their brutal, unwarranted, and illegal human rights violations committed under the guise of war. This bipartisan, bicameral legislation finally negates the 'get out of jail free card' that has existed in our judicial system for far too long," 
Cicilline Votes to Increase Presidential Accountability,Mandate Annual IRS Audits
Congressman David N. Cicilline (RI-01) today voted to increase accountability and transparency for sitting United States presidents through the Presidential Tax Filings and Audit Transparency Act. This common-sense legislation will ensure tax laws are applied evenly and justly to every American – especially the President of the United States – by requiring the IRS to conduct an annual, publicly-disclosed audit of a sitting president's finances.said Congressman Cicilline. "The Presidential Tax Filings and Audit Transparency Act is a straightforward, common-sense bill that would ensure that no president is above the law and, hopefully through accountability and transparency, strengthen the American people's trust in our public institutions."   In 1977, the IRS adopted a policy of conducting mandatory audits on the President.  However, over the course of a four-year investigation, the House Ways and Means Committee found that this policy was "dormant, at best" under the previous administration.   The Presidential Tax Filings and Audit Transparency Act will formally codify this policy into federal law, requiring the IRS to:
  "The American people's trust in our government and public institutions has been understandably fraught following a Trump Administration that seemed to revel in violating norms and skirting ethics laws and regulations for four years," 
Conduct an audit of the President's tax returns, along with any entities controlled by the President, as rapidly as possible after filing.
Provide public updates on the status of the audits.
Publicly disclose the President's tax returns, along with those of any entities, within 90 days of filing to allow for public examination.
Antitrust Enforcement Funding Secured in End of Year Spending Deal
Congressman David N. 
Cicilline
 (RI-01), Chair of the Judiciary Subcommittee on Antitrust, Commercial, and Administrative Law; Congressman Jerrold Nadler (NY-10), Chair of the Committee on the Judiciary;  Congressman Joe Neguse (CO-02), sponsor of H.R. 3843, the Merger Filing Fee Modernization Act of 2022, and Congressman Ken Buck, Ranking Member of the Antitrust Subcommittee, today announced the inclusion of the legislation in the omnibus spending bill for Fiscal Year 2023. The Merger Filing Fee Modernization Act was introduced based on the findings of the Subcommittee's 16-month, top-to-bottom 
investigation 
into the state of competition in digital markets, and was the cornerstone of the Committee's 
markup
 in June 2021 of a bipartisan suite of bills to restore competition online.   H.R. 3843 is a package of bipartisan, bicameral legislation to promote competition by (1) providing resources to the federal antitrust agencies; (2) protecting our national security interests through increased transparency of foreign interests in acquisitions; and (3) protecting the resources of state antitrust enforcers through changes to the multidistrict litigation process. It is supported by a broad coalition of labor and consumer and public-interest groups, including the International Brotherhood of Teamsters, Service Employees International Union, AFL-CIO, Public Citizen, Consumer Reports, Public Knowledge, and the Center for Democracy & Technology.   "This bipartisan legislation will enable an historic investment in our nation's antitrust enforcement while saving taxpayer money," 
said Congressman 

Cicilline
. "It is a victory for working Americans and small businesses, and will make a real difference in ensuring that our economy works for everyone. I applaud Congressman Neguse and Subcommittee Ranking Member Buck for their leadership on this legislation, and look forward to sending it to the President's desk."   "In recent decades, the rising tide of economic concentration has harmed workers while sapping our economy of choice, innovation, and dynamism. It has also given rise to monopolies that exercise outsized influence over our democracy and political institutions, while the budgets for our antitrust enforcement agencies have not kept pace with these trends," 
said Congressman Nadler
. "H.R. 3843 will help respond to these trends by generating more revenue to support federal enforcers, making foreign adversarial interests in transactions more transparent, and allowing more streamlined litigation for state antitrust enforcement. I want to thank Representatives Neguse and Buck for sponsoring this important package of bipartisan legislation, as well as Subcommittee Chair 
Cicilline
 for his leadership in securing this bill in the omnibus."   "We are working to build a more hopeful future for America, which includes protecting consumers and taking decisive steps to spur innovation and small business growth. I am proud to see our bill doing precisely that headed to the President's desk,"
 said
Congressman Neguse.
 "Thank you to my colleagues in both chambers for their help with this effort and to President Biden for prioritizing a fair and competitive marketplace."   "I am proud to work alongside my colleagues to include H.R. 3843 in the omnibus spending bill for Fiscal Year 2023. For too long, the power-grab of Big Tech monopolies has had serious ramifications on small businesses, hardworking Americans, and conservatism in the marketplace. This bipartisan legislation promotes federalism, competition, and opposes the CCP's efforts to steal American innovation," 
said Congressman Buck.