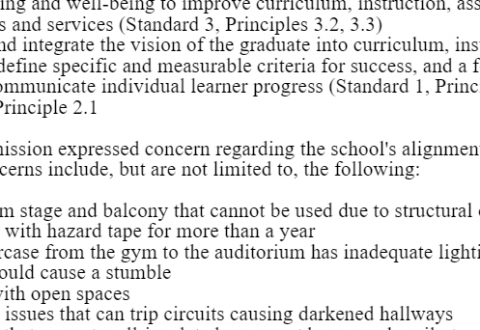 11.21.22 Shea NEASC Warning Letter (2)

NOTE: This story will be periodically updated throughout the coming days
The New England Association of Schools & Colleges, Commission on Public Schools is the Agency of Accreditation for the City of Pawtucket Public Schools, including the troubled Shea High School.
Some background on NEASC:
From The NEASC Website:
NEASC partners with schools to assess, support, and promote high quality education for all students through accreditation, professional assistance, and pursuit of best practices.
Per The NEASC Website, The Value of Accreditation 
"Accredited by the New England Association of Schools and Colleges" assures that our members:
Strive to achieve rigorous and common standards in education
Demonstrate substantive institutional commitment to continual improvement
Commit to balancing the creative tensions that exist between local autonomy and public authority
Nurture individual creative accomplishment
Accreditation is a catalyst for school improvement and growth.
But, in a move that is sure to give the exhausted residents of Pawtucket pause, the NEASC Commission on Public Schools has formally placed Pawtucket's Charles E Shea High School on "Warning" for failure to meet the "Standard on School Resources".
Cited were a variety of concerns (See Letter Above) … "The electrical issues that can trip circuits causing darkened hallways" … "The auditorium stage & balcony that cannot be used due to structural concerns and have been marked with hazard tape for more than a year" … "The use of space heaters that draw electricity away from teaching & learning technology due to the outdated electrical system forcing teachers to unplug the space heaters to use the whiteboard & computers" …
Of importance?  NEASC has given the Pawtucket School District until October 1, 2023, to, in its words "Submit a Special Progress Report … describing actions taken to complete the highlighted recommendations below: … Update on the High School Building Project … Update on actions taken to remediate the current facility deficiencies"
The ultimate questions? Is Shea High School safe for current occupancy … Why has this condition been allowed to fester for so long? And, $10 Million Dollars for Tidewater Landing, yet a High School Facility that is potentially dangerous?
The Coalition is currently reaching out to the Mayor's Office, School Administration, and the Pawtucket Fire Department for comment.