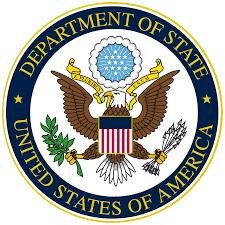 STATEMENT BY MATTHEW MILLER, SPOKESPERSON
July 13, 2023
Investigations and Prosecutions of Atrocities in Darfur
The United States condemns in the strongest terms the continued atrocities and ethnically targeted killings committed by the Rapid Support Forces (RSF) and its allied militias in West Darfur, as reported by credible sources.  The destruction of the village of Misterei and mass killings of its inhabitants, reportedly at the hands of the RSF and allied militias, and the report by the United Nations Office of the High Commissioner for Human Rights of a mass grave found near El Geneina containing the bodies of 87 people, including women and children, are but the latest examples of the horrific human cost of this war. 
The atrocities and violence in Darfur demand accountability, meaningful justice for victims and the affected communities, and an end to impunity.  The United States applauds the International Criminal Court (ICC) Prosecutor's July 13 announcement that alleged war crimes and crimes against humanity committed during the current fighting may be subject to ICC investigation and prosecution and that the Prosecutor's office has commenced focused investigations on recent events.  Let this be a message to all who commit atrocities, in Sudan and elsewhere, that such crimes are an affront to humanity. We urge all states to cooperate with the ICC to deliver the justice promised to the people of Darfur.
The United States joins international and regional parties in demanding an immediate end to the fighting, unimpeded humanitarian access, and for all combatants to adhere to international humanitarian law and international human rights law.  The United States strongly objects to any form of external interference and military support for the belligerent parties, which will only intensify and prolong the conflict and contribute to regional instability.  There is no military solution to this conflict.  The Sudanese Armed Forces and the RSF must silence their guns and start negotiations on a permanent cessation of hostilities.  The world is watching. 
STATEMENT BY SECRETARY ANTONY J. BLINKEN
July 13, 2023
Designation of Juan Carlos Varela Rodriguez,
Former Panamanian President, for Significant Corruption
Today, I am announcing the designation of former Panamanian President, Juan Carlos Varela Rodriguez as generally ineligible for entry into the United States, due to his involvement in significant corruption.  While serving as Panama's vice president and then president, Varela accepted bribes in exchange for improperly awarding government contracts.
This designation reaffirms the commitment of the United States to combat endemic corruption in Panama.  The people of Panama place trust in those who represent them.  Corruption unjustly deprives the people of Panama of quality public services such as schools, hospitals, and roads, hurting their economic prospects and their quality of life.  If not addressed, corruption will continue to depress Panama's prosperity, weaken its democracy, and prevent it from realizing its full potential.
It is our hope that today's action will prompt Panama's elected representatives and authorities to tackle entrenched corruption and empower all those who stand up for the rule of law.  Corruption anywhere damages the national security and economic health of the United States and our allies.  We will continue to promote accountability for those involved in significant corruption throughout the world.
This public designation is made under Section 7031(c) of the Department of State, Foreign Operations, and Related Programs Appropriations Act, 2023.  Officials designated under Section 7031(c) and their immediate family members are generally ineligible for entry into the United States.
STATEMENT BY SECRETARY ANTONY J. BLINKEN
July 13, 2023
On the Global Food Crisis
The United States has long been at the forefront of tackling global food insecurity, and we remain steadfast in our leadership through our focus on two crucial dimensions: immediate emergency response and long-term strategies for sustainable productivity.
Global food demand will increase by more than 50 percent in 2050, but due to climate change, agriculture yields of major crops could decrease over that same period.  This dangerous combination could lead to price spikes, food insecurity, social unrest, political tensions, and conflict.
We will never achieve food security without fertile soils and adapted and productive crops.  The United States is providing an initial $100 million through the Vision for Adapted Crops and Soils (VACS) program.  As part of Feed the Future, VACS will initially focus on the African continent and will include mapping and analyzing soils, promoting better farm management, and mitigating drought effects.  It will also foster crop varieties resilient to climate change, pests, extreme weather, and variable rainfall.
With this assistance, we are continuing to support critical agricultural development programs.  We are also committed to partnering with the international community on food security initiatives that lead to nutritious adapted crops and healthy soils for sustainable agriculture.