A raucous, but determined group of medical professionals, harm reductionists, activists & a Rhode Island State Legislator gathered in Providence's Kennedy Plaza to protest the behavior of a Rhode Island Public Transit Authority (RIPTA) Supervisor, as yet unidentified, who apparently takes the distribution of NARCAN (Generic Name: Naloxone) as a personal affront. Multiple reports have been filed with elected officials about the individual's behavior, as he, and others have apparently become enraged at attempts to distribute the lifesaving drug in the Kennedy Plaza, Providence, Rhode Island neighborhood. In another particularly disturbing event, a local Providence activist & harm reductionist, documented a recent case where RIPTA employees refused to engage in any level of medical intervention. (See statement below.)
Note: The Coalition is reaching out to RIPTA, the Rhode Island Public Transit Authority, which manages public transportation in the downtown area, known as Kennedy Plaza, including a kiosk .. itself the subject of controversy because of the refusal for several years to grant access to bathroom facilities within, to largely anyone frequenting the Plaza … as to why RIPTA actively, aggressively obstructs the distribution of NARCAN, a process far less intrusive, but equally lifesaving as insulin or heart defibrillation? What is the protocol for RIPTA Employees to engage in lifesaving techniques and/or the notification of medical personnel (911)?
Note: At the appearance of protestors, the Supervisor in question literally fled the area.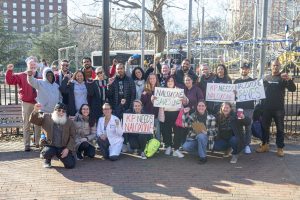 In a letter addressed to local leaders, Activist & Researcher Haley McKee documented her own experience with a RIPTA Supervisor:
"I'm reaching out with another unfortunate incident in Kennedy Plaza early yesterday afternoon. I was doing data collection for a current research study on Opioids and Overdose in the RIPTA building for about 2 hours. During that time, I had engaged with several study participants who reported drug use that indicated that they were at risk of overdose but who did not have Naloxone in their possession. I distributed several kits of medication before I went into the women's restroom and saw a pair of shoes protruding from underneath one of the stalls.
When I opened the door to the stall, there was a woman lying on the ground experiencing what was clearly an overdose. It was unclear how long ago this had happened, but her skin was an awful shade of deep blue. I went through my purse frantically and realized that I had just handed my last 2 doses of Narcan to a person just a few minutes earlier. I asked another woman in the restroom to start performing chest compressions and, if she was comfortable doing so, to breathe for the woman while I ran out for help.
Right outside of the restroom door was a RIPTA employee who is not unknown to our Recovery Community. I asked him for Narcan, and he defiantly responded that they won't carry it. I asked him to call 911 and he said that he would not. He then tried to argue with me but I was terrified for this person who was going without oxygen, so I walked away as he was unwilling to help. I believe I went back into the restroom at that point when I placed a call to 911. The emergency operator had a difficult time hearing me try to give her a location- it seemed as though the service in that space was not clear and kept cutting in and out. I quickly turned my video camera on as I exited the restroom because I anticipated more aggression from the RIPTA employee. I'm can provide the next 5 minutes of what is mostly audio from my running in and outside of the building, yelling for Narcan. I've reached out to people who might be able to crop a very small glimpse of the person who is experiencing a medical emergency out of the video, for her protection, and I trust you won't share this out publicly beforehand anyway.
I was able to find a single dose from a lay person in the building that I immediately administered in this woman's nostril. I went back out of the restroom as the other woman was providing chest compressions for the person who was experiencing an overdose throughout this time. I ran by the RIPTA employees who were still lingering in the building, outside of the restroom. It was outside of the building (with more loud calls for help for Narcan), that I encountered the services who first responded. About a handful of Providence Police had parked on the side of the building in a few cars on the curb towards the ice-skating rink. I directed them to the restroom and asked who had Narcan available and, collectively, none of them did. I asked if they had it in their cars and they responded that they did not. At some point I asked another bystander to run over to the harm reduction organization that was distributing Narcan near the convenience store across the street.
A short time later, a Providence Officer found a dose and we went back into the restroom together where he was encouraged to administer it in the person's other nostril, which he did. Thankfully, this person started gasping for air immediately after they were given a second dose of medication. I left at that point as I'm pretty sure EMT workers were arriving, and they needed space to assist the woman. I really hope that she pulled through and is ok.
Senator, I apologize for the long email. I'm fortunate to be alive because someone helped me when I last overdosed in 2013. I've got gratitude to be able to have meaningful work but also walk away from these situations with an overwhelming sense of sadness. The chaos, barriers, and stigma that we as good Samaritans and outreach workers encounter in Kennedy Plaza on a regular basis is unacceptable.
About 2 months ago I stepped off of the R-Line north bus and encountered a man who had just overdosed at that bus stop. There were about 5 RIPTA supervisors standing within a few feet of this person. I asked them if they called 911 and they would not answer my question. They made disparaging remarks about not bothering to help him because he had overdosed before.
Fortunately, I had a bunch of Narcan on hand that day and there were quite a few young bystanders who didn't know this man but who wanted to help. I've been a Narcan trainer for years but screwed up on that scene because I couldn't get RIPTA staff to stop being disruptive while coaching the others to take the steps to save that person at the same time. While the same RIPTA employee was harassing us (and I had to ask him and his coworkers to leave), I wasn't able to see if the nasal dose was administered properly, a Narcan syringe was broken by one of the other bystanders, the next dose was put by someone else into the top of the person's shoulder and they were bleeding from this. Everyone was so distracted by the RIPTA employees, who were laughing hysterically at us for a long period of time while we were struggling to save this man, that I forgot to ask people to breathe for him for a couple of solid minutes as I asked RIPTA supervisors to stop while trying to load syringes with medicine to successfully get it into his body. I was able to take photographs of RIPTA supervisors that day and can also pass them along.
This failure to assist, hatred, and intimidation kills vulnerable people. The same RIPTA employee from both overdoses that I was involved in is also the same person who told a sitting City Council Member and a number of peers from Anchor Recovery Community Center on Overdose Awareness Day this past August that they were not allowed on "their" property. It's also the same entity that has been moving the Project Weber Renew van to places that, given the urgency, weren't as accessible yesterday. Ironically, the same research that I was conducting during all of this has surveyed 400 people locally who use drugs with 40% of these people report not calling 911 in overdose events. Also, only 10% of people who witness overdoses report police administering Naloxone.
This falls right in line with Dr. Marshall's study of Providence overdose responses. Which makes perfect sense, statistically and anecdotally, as they're not bothering to carry it when responding to the most prevalent place for overdose in the whole state. I do believe they are required to, though. None of the people who I engaged with yesterday-and I hear this every day-carried Naloxone. Many people are afraid to and feel targeted if they are in possession of this medication. I'm happy to provide all of this data to anyone who is interested.
You've been a leader in this crisis for a great number of years now, Senator. Our community appreciates your expertise and dedication to this issue and are incredibly grateful for you. I've got some ideas for solutions such as Naloxboxes and would like to hear any thoughts that you might have to address our collective concerns. Perhaps meeting as a community together would be ideal?