Richard Southwell is a member of the Parents Union, and the lead plaintiff in Southwell v. McKee, a lawsuit brought against the State of Rhode Island for their execution of a Student Mask Mandate. Mr. Southwell contributes to The Coalition Radio Network on both Covid related issues, as well as video content dedicated to improving math understanding in Middle School classrooms
This is obviously a huge win for "The Barrington 3" and Attorney Piccirilli.  But it is also a win for every Rhode Island parent who has been dealing with high handed, above it all school committees and administrators over the last few years.
The Barrington School Committee (BSC) was sued for not providing adequate notice to the public of a significant change in the district's Covid-19 protocols (implementing a vaccine mandate for teachers and staff).  Adequate notice of meetings and agendas are required by law to ensure that the public has the opportunity to participate in government through public comment and direct contact with their elected officials.
Without taking a position on whether vaccine mandates were appropriate or not, Judge Lanphear ruled that  "A new protocol setting policy during a pandemic is not only important to the teacher-plaintiffs, but it is reasonable to conclude that it would be important to the district's 3366 students, their parents, administrators, other teachers, visitors to the schools and to the public at large."  In other words, BSB was getting ready to make a change that would impact the entire school community and therefore, it had a legal duty to engage with the public before making it.
Judge Lanphear found that BSC did not provide the public with adequate notice of the planned vaccine mandate.  "
With minimal and vague notice, it is reasonable to conclude that few knew of the actions being taken."
  In other words,  a school committee cannot draft a vaccine mandate policy and then put it on a public meeting agenda under a generic heading like "COVID-19 stuff".
As I've noted earlier, the decision was not a ruling on the legality of vaccine mandates, it was a ruling on the process of implementing them.  In this case, BSC failed to keep the public adequately informed and denied parents, teachers, students and staff their right to participate in a policy decision that would likely be controversial.  Judge Lanphear notes in his decision "Following the dictates of the case law may have left the school committee with protracted and heated public comment, but it also would have resolved the notice issue."  In other words, the school committee can't exclude the public from policymaking decisions because they don't want to deal with blowback.
The message to school committee and administrators around the state is clear … You have to deal with us whether you like it or not.
justice."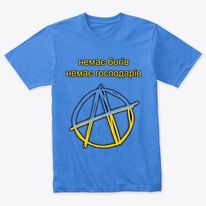 Check Out Our Tee Shirt Fundraiser For Doctors Without Borders In The Ukraine!
Join The Coalition Radio Network In Supporting The People of Ukraine! A donation of 5$ will be made for every "No Masters No Gods" Tee Shirt purchased to Doctors Without Borders\Medicine Sans Frontier, earmarked for humanitarian efforts in Ukraine.
Purchase Tee Shirts Here:
Read Charity Watch Insights Into Doctors Without Borders Ukrainian Operations: