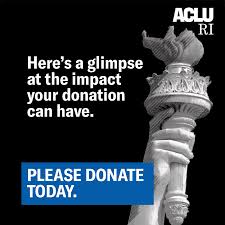 Rhode Island Legal Services and the American Civil Liberties Union of Rhode Island have filed a detailed brief in R.I. Superior Court seeking to overturn a decision issued last year by the Council of Elementary and Secondary Education ("Council") that the groups claim violate "the rights of English Learners throughout the state, at the very time that recent studies and reports highlight the disastrous academic underperformance of English Learners in Rhode Island as a result of long-running underfunding and failure to enforce legal protections."
The brief was submitted in a lawsuit filed last year by the two groups, arguing that the Council and the state Department of Education have interpreted state regulations governing EL instruction to provide less support to those students than federal law requires.
The dispute dates back even earlier, to 2016, when RILS and the ACLU-RI filed an administrative complaint with RIDE on behalf of parents of English Learners in Providence whose children had been provided with few or no direct services by a certified EL teacher. Instead, Providence claimed that the children were being adequately served by educators who consulted with an EL certified teacher as infrequently as once every two months and for no specified amount of time. According to the lawsuit, this "Consultation model" used by the school district further discriminates against children with disabilities by denying them even the less-than-adequate EL services provided to students without disabilities.
In 2018, the U.S. Department of Justice independently concluded that Providence's "Consultation model" was "educationally unsound" and invalid under federal laws, but both RIDE and the Council refused to take that determination into account in deciding that its use was lawful under state regulations.
The 32-page brief filed yesterday argues that by "inviting untrained general or special educators to provide 'specialized language instruction' they have not been prepared to provide, the Decision of the Council effectively demolishes the entire state regulatory scheme intended to ensure the quality of EL services. In fact, it opens a loophole that swallows the entire quality assurance scheme of Rhode Island's regulations."
The brief further claims that the "inequities and failures" generated by these flawed practices "have only been exacerbated by the pandemic," and the urgency to address the problem has "never been greater."
RILS attorney Kot said today: "The well-documented academic underperformance of English Learners in Rhode Island is due in no small part to a long-standing failure to enforce existing protections in state law on behalf of these students. It is high time to recognize and enforce those rights."
ACLU of RI cooperating attorney Saideman added: "According to the DOJ findings, there are nearly 400 students who were placed in the Consultation Model and received practically no EL services.  As our brief attempts to show, seeking compensatory services for all of them is essential."