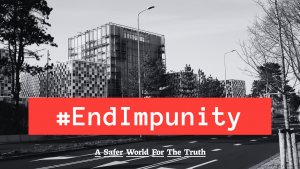 In an unprecedented effort to achieve justice in the killing of journalists, three leading press freedom groups have established a People's Tribunal to investigate their murders and hold governments accountable. The Tribunal, a form of grassroots justice, relies on investigations and high-quality legal analysis involving specific cases in three countries. An opening hearing will be held on November 2 in The Hague.
Violence against journalists is on the rise worldwide. Since 1992, more than 1,400 journalists have been killed, and in eight out of ten cases where a journalist is murdered, the killers go free. The persistently high level of impunity perpetuates a cycle of violence against journalists, posing a threat to freedom of expression.
In a major push towards justice, leading press freedom organizations Free Press Unlimited (FPU), Reporters Without Borders (RSF), and the Committee to Protect Journalists (CPJ), requested the Permanent People's Tribunal to convene a People's Tribunal on the Murder of Journalists. People's Tribunals are designed to hold states accountable for violations of international law by building public awareness and generating a legitimate evidence record, and play an important role in empowering victims and recording their stories. The People's Tribunal on the Murder of Journalists will indict the governments of Sri Lanka, Mexico, and Syria for failing to deliver justice for the murders of Lasantha Wickramatunga, Miguel Ángel López Velasco, and Nabil Al-Sharbaji.
Renowned human rights lawyer Almudena Bernabeu will lead the prosecution for the opening hearing. A keynote address will be delivered by Baroness Helena Kennedy of the Shaws QC, member of the High Level Panel of Legal Experts on Media Freedom.
Key witnesses delivering testimonies include prominent Filipino journalist Maria Ressa, Hatice Cengiz, academic and fiancée of Saudi journalist Jamal Khashoggi who was murdered in 2018, Matthew Caruana Galizia, journalist and son of Maltese journalist Daphne Caruana Galizia who was murdered in 2017, and Pavla Holcová, investigative journalist and colleague of Slovak journalist Ján Kuciak, murdered in 2018.
The opening hearing will take place from 9 a.m. to 6 p.m. Central European Time on Tuesday, November 2, 2021, in The Hague, and can be attended in person by emailing info@freepressunlimited.org, or joined via livestream on saferworldforthetruth.com
Leon Willems, Director, Director of Policy & Programmes of Free Press Unlimited (FPU), states:
"Too many brave journalists were murdered for doing their vital job: reporting the truth. The People's Tribunal demands justice for these heinous crimes and creates leverage to mobilize states to address impunity for the murders of journalists. More can and should be done to bring the perpetrators of these crimes to justice. That is the inspiration for 'A Safer World of the Truth'."
Joel Simon, Executive Director of the Committee to Protect Journalists (CPJ), states:
 "The role of the Tribunal is important to seek justice for these courageous journalists, but it also gives family members and colleagues an opportunity to speak up and share their own stories and the impact of these brutal murders. Those left behind have worked tirelessly to keep the stories of these journalists alive, often in the face of threats and harassment. Their voices have been crucial in ongoing efforts to fight back against impunity."
Christophe Deloire, Secretary-General of Reporters Without Borders (RSF), states:
"The opening hearing on November 2nd marks the International Day to End Impunity for Crimes against Journalists. This initiative goes beyond naming and shaming authorities which allow the horrifying impunity level. It's about setting a concrete and useful example of what should be done by the judiciary."
Almudena Bernabeu, Prosecutor of the People's Tribunal on the Murder of Journalists, states: "Freedom of expression is an essential human right. And yet, the frequency of grave violations committed against journalists coupled with prevailing high levels of impunity is alarming. It is time that states are held accountable."
About the organizations:
Free Press Unlimited (FPU): Free Press Unlimited is a nonprofit organization based in Amsterdam, the Netherlands that helps local journalists in conflict areas to provide their audience with independent news and reliable information. By supporting local media professionals, Free Press Unlimited seeks to support the enabling of a sustainable, professional, and diverse media landscape.
Committee to Protect Journalists (CPJ): 
The Committee to Protect Journalists is an independent nonprofit organization that promotes press freedom worldwide and defends the right of journalists to report the news safely and without fear of reprisal.
Reporters Without Borders (RSF): Reporters Without Borders is an NGO based in Paris, France. Its foreign sections, its bureaus in ten cities, including Brussels, Dakar, Washington, Berlin, Tunis, Rio de Janeiro, Taipei, and Stockholm, and its network of correspondents in 130 countries give RSF the ability to mobilize support, challenge governments and wield influence both on the ground and in the ministries and precincts where media and internet standards and legislation are drafted.
A Safer World For The Truth is a collaboration between Free Press Unlimited (FPU), Reporters Without Borders (RSF) and the Committee to Protect Journalists (CPJ)