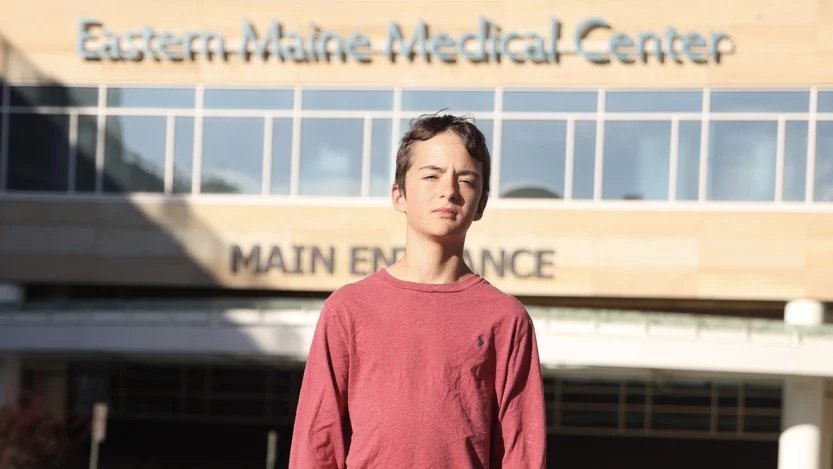 From FIRE-Foundation For Individual Rights & Expression:
Samson Cournane isn't your average 15-year-old. This fall, he starts his junior year as a computer science major at the University of Maine after making the dean's list in the spring. But like many college students, Samson is engaged, outspoken, and passionate. And for that, a healthcare corporation tried to shut him up.
"Young people have free speech rights just like everyone else," said Samson. "I have the right to stand up and speak my mind without being bullied into silence."
To fight back, the Foundation for Individual Rights and Expression sent a letter today on behalf of Samson to Northern Light Health demanding that the conglomerate retract its threat to sue over his First Amendment-protected advocacy.
In June 2022, Northern Light Health's Eastern Maine Medical Center fired Samson's mother Dr. Anne Yered, a respected pediatric intensive care doctor, without cause after she raised concerns about patient safety. While Dr. Yered sought to resolve her wrongful termination claims without litigation, Samson decided to do his own research, and found that news articles and watchdog reports showed a troubling pattern of safety issues at his local hospital.
Samson, then 14, decided to write a Change.org petition addressed to his congressman, Rep. Jared Golden, decrying the hospital's low patient-safety ratings and asking for an investigation. The following month, Samson published a letter to the editor in the University of Maine campus newspaper linking to the petition.
Northern Light Health's response was shocking. The conglomerate threatened to sue Dr. Yered for defamation based on Samson's advocacy, claiming, with zero evidence, that Dr. Yered wrote Samson's petition and letter to the editor.
The conglomerate's threat to file a meritless lawsuit is a classic example of a strategic lawsuit against public participation — a "SLAPP" for short.
It's a complicated phrase, but it identifies a simple threat: "In a SLAPP suit, an individual or entity drags a speaker into an expensive court proceeding to shut them up," explains FIRE senior attorney Jay Diaz. "It's nothing more than censorship by lawsuit."
FIRE's fighting back against this SLAPP because government officials aren't the only ones who censor speech. When powerful and deep-pocketed individuals or corporations like Northern Light Health threaten baseless litigation to sue citizens like Samson into silence, that's censorship, too.
More than 30 states, including Maine, have enacted anti-SLAPP laws to protect speakers against meritless lawsuits that infringe upon their free speech rights.
The Coalition Radio Network Will Often Suggest Materials Related To The Article Subject Matter. The Coalition May Receive Commissions From Purchases
"Our client may be named Samson, but this is a case of David vs. Goliath," said FIRE attorney James Jordan. "If a powerful corporation would threaten to sue a teenager into silence, they'll do it to anyone."
The Foundation for Individual Rights and Expression (FIRE) is a nonpartisan, nonprofit organization dedicated to defending and sustaining the individual rights of all Americans to free speech and free thought — the most essential qualities of liberty. FIRE educates Americans about the importance of these inalienable rights, promotes a culture of respect for these rights, and provides the means to preserve them.