I met my current husband on OkCupid. I was just getting out of a very long marriage and was convinced that the last thing I wanted to do was get into another serious relationship. I was in the middle of a divorce and very pre-occupied with transitioning my kids to their new split-household life. In contrast, he was younger than me, single with no kids, and wearing a green spandex bodysuit and other festival attire his profile photo. He was not someone I had anything in common with. 
Or so I thought. Every time I opened the app his picture was the first that would appear, along with our 99% match. I ignored him for a couple of weeks until I relented and reached out, expressing that he was being pushed at me.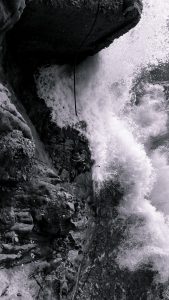 After a few exchanges we agreed to meet for coffee. Our coffee date lasted more than 3 hours; it turned out that we had endless things to talk about. We talked for so long, in fact, that I had to ditch him to go on my "real date" I'd planned with someone else for that night. But that's a story for another time.  
The OkCupid algorithms apparently knew me better than I knew myself. They allowed me to connect with someone who ended up being a perfect partner for me when I didn't even know what I wanted in a partner (or if I wanted one at all!). 
But at the time I was a single mom in a graduate program without much of an online presence. Years later when I went back to OkCupid–looking for friends and play partners–it was a totally different experience.  
In the meantime, I'd become a sex worker and developed a writing career that made me publicly recognizable. As a sex worker, I spent much of my time sexting, sending dirty pics, talking to men on the phone, and doing erotic skype sessions. Even though I tried to mentally separate out the dating apps from the platforms I worked on, it was hard and left me annoyed by the online dating experience.  
Often interacting with potential dates felt like working. With one exception: I wasn't making any money. In this way, time spent swiping was bad for my business and made me feel like I was working on my off time. And I like my job, but this doesn't mean that I want to feel like I'm in work mode in all my interaction.  
There were also other problems that I hadn't dealt with before. People who matched with me knew more about me than I knew about them. Once on a date someone pulled out notes that they had taken about me–talk about awkward! And worse, many folks used the opportunity to either grill me about the ins and outs of sex work, be overtly sexual in ways that were inappropriate to our level of intimacy, or tell me why they disapproved of my career.  
While I wasn't officially kicked off the platform for being a sex worker, I was de facto driven off them for all of the above-mentioned reason.  
This wasn't much of a loss for me. Sure, I'd like to meet people who I wouldn't otherwise come in contact with and have the occasional rendezvous. But honestly, not enough to bother. Obviously, the largest contributing factor of my indifference is that I'm in fulfilling relationship and have been for the entire time I've worked as a sex worker. But what if I wasn't? I can't imagine how hard navigating a dating app as a sex worker would be if I was actually invested in a successful outcome.   
With this in mind, I recently Tweeted, asking sex workers to talk about their experiences on dating apps and was overwhelmed by the response. More than 80 sex workers responded to the tweet itself saying that they have been kicked off the platform, even though they haven't explicitly stated their profession, or that they have been reported or abused by other users. 
Commenting on the original tweet, Frankie Rivers said, "I actually had one great Tinder success, but most of my experience has been pretty uninspiring, and it's so much work correcting all the bad takes on sex work and polyamory." Like me, Frankie also found the experience of being poly and a sex worker on a dating app to be tedious.  
Marie Pearl also struggled with separating out her personal online dating experiences from her interactions with clients. She said, "I found it hard to date online as a sex worker because I don't want to deal with any of the bullshit since I get it from clients as well. It made online dating feel like work."  
In a similar vein, Sade Lune remarked, "Definitely a lot of men sending dick pics or leading with their fantasies/fetishes treating me like a free session, and a lot of women/queers not writing or responding." Like me, these frustrations made her feel like the apps are not useful to her. She says, "When people suggest dating apps at this point, I'm like – sorry that's not for queer single parent out sex workers."   
But tedium and managing inappropriate behavior are hardly the biggest issues sex workers face on dating platforms. The bigger issue is managing to not be kicked off the platforms themselves, even when they aren't using them for work. SX Noir commented, "I've been banned from several [dating apps]."  
 Goddess Lilith had a similar experience, "I've had my accounts shut down more than once even though I was careful not to mention any type of adult work at all – was just looking for an actual play partner!" Riley Daniels also says, "I've been banned from several despite never ever mentioning my job. It makes dating in a small town very hard."  
Given her geographic isolation, not having access to dating apps limits Riley's dating pool. While this isn't necessarily the case for Nikki Kit, being kicked off the platform did interrupt an interaction she was invested in. She said, "I got kicked off of tinder. My personal tinder. I was so sad because it happened RIGHT in the middle of chatting up this excruciatingly hot woman." 
Many of the sex workers who I talked to suspect that the reason that they are being kicked off, especially since they are not disclosing their work status on their profiles themselves or using the site to solicit, is because the other users are reporting them as sex workers. 
Dulcinea remarked, "IP & device banned from every single one except Tinder (probably because I have a paid premium subscription).  I'm even banned from adult/kinky platforms. I keep my profiles clean and don't mention [sex work] or money at all, but loads of men vindictively report me for rejecting them." 
Dulcinea is not alone. Emilia Song echoed, "My account got shut down an hour after a first date when I rejected the guy because he was a little too … enthusiastic about my work." She went on, "The guy was extremely excited about my work and really wanted to 'help,' but I wasn't feeling his puppy-like enthusiasm, so I said 'no' to a second date. When I opened the app later that night, my account was banned." 
As sex workers, we live in a world of double standards. We are told to get "legitimate" jobs, and then excluded from these jobs because of our history in sex work. Similarly, we are told to not solicit on dating sites lest we be kicked off, but are kicked off in large numbers regardless of following the rules.  
One of the beauties of online dating is that it brings us into contact with people who we wouldn't otherwise come in contact with, people who may very well be perfect for us. This is what happened to me. But I was lucky, and that luck was possible, in part, because I wasn't fighting the same stigma then that I do now.  
Dating sites have become just about unusable for me now, as they have for so many of my friends and colleagues. And yet, the only thing that makes it so is that we do a stigmatized job. Sex workers who are on dating apps for their personal use are on them for the same reason everyone else is: for companionship, connection sex, and love.  
There is no reason that we shouldn't be able to find those things in the same way everyone else does. So next time you're on a dating app and someone discloses that they are a sex worker in conversation, I urge you to mind your own business. We are just people who, trying to have lives outside of our jobs, like everyone else.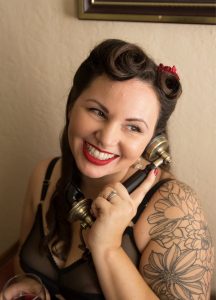 Jessie Sage – she/her  is the managing editor of Peepshow Media, an online magazine featuring news and stories from the sex industry, and co-host of the Peepshow Podcast. Her writing has appeared in The Washington Post, VICE, Men's Health, Hustler, and more. She works in the sex industry as a phone sex operator and indy performer. You can find her on Niteflirt, Sextpanther, Manyvids, and Onlyfans or follow her on Twitter @sapiotextual.