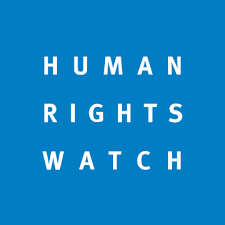 Ukraine: Deadly Attacks Kill, Injure Civilians, Destroy Homes
Explosive Weapons Leave People Dead, Wounded, Homeless; Damage Vital Infrastructure
More than 450 civilians were reportedly killed or injured in the first 11 days of the war, in Kharkiv, Ukraine's second largest city, as a result of Russian airstrikes and artillery shelling of populated areas, Human Rights Watch said today. The attacks damaged civilian buildings, including apartment blocks, schools, places of worship, and shops, impeding access to food and medicines. They also damaged infrastructure in the city causing civilians to lose vital services such as electricity, heat, and water.
Human Rights Watch identified Russian use of cluster munitions and explosive weapons with wide-area effect in heavily populated areas in Kharkiv, in apparent indiscriminate and disproportionate attacks. Indiscriminate shelling in heavily populated areas violates international humanitarian law and may constitute a war crime.
"In Kharkiv, Russian military forces showed disregard for civilian lives through repeated apparent indiscriminate attacks in populated areas" said Hugh Williamson, Europe and Central Asia director at Human Rights Watch. "Russia's military may believe they can disregard the laws of war in their assault on Kharkiv, but the International Criminal Court has jurisdiction over war crimes committed in Kharkiv and there will be accountability for those responsible."
According to Kharkiv regional police, between February 24 and March 7, 2022, a total of 133 civilians were killed, 5 of them children, and 319 civilians were wounded. One of the attacks Human Rights Watch documented killed a man as he was waiting in line outside a supermarket; another killed two people who had apparently just emerged from a shelter to get water.
A spokesperson for the Kharkiv mayor's office told Human Rights Watch that as of March 4, approximately 500,000 people remained in the city, from a pre-war population of 1.8 million.
"People are leaving Kharkiv 'empty,'" a resident told Human Rights Watch. "They don't pack bags or take their things. They grab their documents and each other and they flee." Those who remain have endured intermittent heat at best, as outside temperatures have ranged between 2 and -4 Celsius, as well as shortages of food, water, and essential medicines.
Yuri Sydorenka, the head of the External Affairs Department of Kharkiv's mayor's office, said that as of March 3 the city was experiencing major medicine shortages: "So far, we have some ways to get medication in, but we need more." On March 7 the deputy head of the Health Ministry's Kharkiv office, Zhanna Strogaya, told Human Rights Watch that at least 14 healthcare facilities had been damaged, 9 of them seriously.
Human Rights Watch interviewed 29 people, including Kharkiv residents, medical workers, volunteers assisting with evacuation, and municipal officials, about the attacks. Human Rights Watch verified and analyzed 29 videos and 41 photographs posted on Telegram, Twitter, Facebook, or TikTok, and another 2 videos and 18 photographs sent directly to researchers to corroborate witness testimony and to identify additional impact sites and damage.
The attacks Human Rights Watch documented took place between February 24 and March 5. They damaged or destroyed residential buildings, schools, market stalls, churches, stores, hospitals, university departments, and other civilian infrastructure throughout the city. The Ukrainian human rights group Truth Hounds also documented many of these attacks.
"Our city center is being erased," one Kharkiv resident told Human Rights Watch.
Sydorenka, said that on March 2 alone, Russian shelling killed 34 people and injured 285. Ten of the injured are children. He also said that the attacks damaged hundreds of apartment buildings and disrupted the city's water and power supply, leaving about 300 apartment buildings without electricity.
A 45-year-old woman who was living in Kharkiv's southeast Industrialny district, on March 2 said, "Where I live, there is no internet, no hot water, we had no heating for several days. I only have the food I bought before the crisis started. Everything is closed, there is no bread."
Several people said that the basements, underground parking lots, and other facilities used as bomb shelters were freezing cold, and when sheltering in them, civilians had little access to basic needs such as food and water. A man from Saltivka, a large residential area in Kharkiv's northeast, said that his family spent six nights in an unheated basement in sub-zero temperature, with little food and water. "It was so cold that I started having seizures," he said. "The stores are running low on food and water, you can still buy Coca-Cola but that's about it."
Many people also shared their fears that their apartment building infrastructure was not safe. "There are water pipes in our basements and there is a danger that a water pipe might burst," one woman said. Another said that she did not take shelter in the basement, because she was worried that the building would collapse and they would be "buried under the rubble." "It is safer in the flat," she said. She and her four-year-old son were taking shelter in the bathroom on the fourth floor of her apartment building.
Dozens of educational facilities, including schools and preschools, were damaged or destroyed in the first week of the war, Sydorenka said. Human Rights Watch documented damage to eight schools and two university departments.
Under international humanitarian law parties to an armed conflict have obligations to distinguish at all times between civilians and combatants, between civilian objects and military objectives, and to take precautions to protect civilians and other non-combatants from the hazards of war. Failure to observe the principle of distinction, in particular by directing an attack against civilians or civilian objects or conducting indiscriminate or disproportionate attacks, constitutes a war crime when committed deliberately or recklessly. Unlawful and wanton excessive destruction of property that is not militarily justified, is also a war crime.
Human Rights Watch was not able to conduct on-site visits in Kharkiv and used interviews with witnesses and images from the damage to try to identify the types of weapons Russian forces used in the attacks documented. This analysis demonstrates that in addition to cluster munitions, Russian forces used explosive weapons with wide-area effect.
The use of explosive weapons with wide-area effect in populated areas heightens the likelihood of unlawful, indiscriminate, and disproportionate attacks. These weapons have a large destructive radius, are inherently inaccurate, or deliver multiple munitions at the same time. Long-term effects of their use include damage to civilian buildings and critical infrastructure, interference with services such as health care and education, and displacement of the local population. Russia and Ukraine should avoid using explosive weapons in populated areas. Every country, including Russia and Ukraine, should support a strong political declaration that includes a commitment to avoid the use of explosive weapons with wide-area effect in populated areas.
Russian and Ukrainian forces should make all efforts to ensure that adequate supplies and humanitarian assistance are able to reach civilians in and around Kharkiv, and every country, and intergovernmental organizations should press both parties to abide by their international humanitarian law obligations and ensure access for humanitarian assistance and safe passage for civilian evacuations. The parties should allow access to neutral and independent humanitarian aid providers so they can offer support to vulnerable civilians who may need assistance to leave, including people with disabilities, older people, pregnant people, children, and people with chronic or severe medical conditions. If an agreement to establish humanitarian corridors is reached and put into effect, the parties should not breach that agreement in any way that places civilians at risk.
The International Criminal Court has opened an investigation into the situation in Ukraine. The extensive civilian losses and damage in Kharkiv underline the importance of the court's scrutiny on the lawfulness of the attacks on the city. The Commission of Inquiry established on March 4 by the United Nations Human Rights Council in Geneva should also investigate alleged unlawful attacks in Kharkiv.
"Our assessment points to multiple indiscriminate attacks in the first 11 days of hostilities in Kharkiv, and media reports indicate that Russia has carried out further indiscriminate attacks harming civilians as fighting continues in Kharkiv and elsewhere," Williamson said. "Russia should immediately abide by its obligations to avoid and minimize civilian harm, and not lose sight of the fact that multiple international investigations are underway to hold those who don't meet their obligations to account."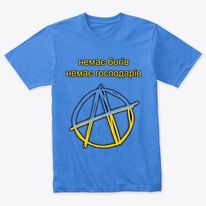 Check Out Our Tee Shirt Fundraiser For Doctors Without Borders In The Ukraine!
Join The Coalition Radio Network In Supporting The People of Ukraine! A donation of 5$ will be made for every "No Masters No Gods" Tee Shirt purchased to Doctors Without Borders\Medicine Sans Frontier, earmarked for humanitarian efforts in Ukraine.
Purchase Tee Shirts Here:
Read Charity Watch Insights Into Doctors Without Borders Ukrainian Operations:
Ukraine: Cluster Munitions Repeatedly Used on Mykolaiv
Civilians Killed, Injured in Multiple Attacks That May Amount to War Crimes
Russian forces repeatedly fired cluster munition rockets into the densely populated city of Mykolaiv, in southern Ukraine, during separate attacks on March 7, 11, and 13, 2022, Human Rights Watch said today. An attack on March 13 reportedly killed nine civilians, who were apparently in line at a cash machine. The attacks also injured several other civilians and damaged homes, businesses, and civilian vehicles.
"Multiple residential areas in Mykolaiv were rocked by cluster munition attacks in the span of a week," said Belkis Wille, senior crisis and conflict researcher at Human Rights Watch. "Russian forces should stop using cluster munitions and end these clearly indiscriminate attacks."
Cluster munitions are subject to an international treaty ban because of their widespread indiscriminate effect and long-lasting danger to civilians.
Human Rights Watch interviewed by phone six witnesses to the attacks and analyzed dozens of photographs and videos, shared by witnesses or posted on social media. They show damage from the attacks, four dead bodies, and remnants of the weapons that were used, including of Uragan and Smerch cluster munition rockets, as well as remnants and unexploded 9N210 fragmentation submunitions.
On March 7, the first day of the attacks, a handyman and his wife and children were asleep when their neighborhood came under attack at about 5 a.m. Their home is about two kilometers from the city's port. They went to shelter in their neighbor's basement as the attacks continued. At about 10 a.m., two rockets landed next to his house, one in the yard and another behind his home. "I heard a whistling sound and the noise of many explosions," he said. "The basement was vibrating." He later found his yard destroyed, and a team from the Emergency Service, the government body that carries out demining and clearance, told him that the rockets were both Smerch.
Attacks also took place in Solyani, a northern suburb of Mykolaiv with residential neighborhoods and a military base, on the morning of March 7. A truck driver from Solyani, a member of the civilian neighborhood watch since the war began, patrolled the neighborhood after the attacks ended. He said that three civilians were wounded and that he saw what Human Rights Watch identified, based on his photographs, as four expended rocket motors and one cluster munition cargo carrier from 9M55K Smerch rockets. One rocket motor and tailfin assembly of a Smerch rocket had landed in the yard of a preschool, two rocket mortars landed between houses, and the fourth landed in the middle of a street, while the carrier assembly landed on the riverbank.
The location where these rockets and carrier landed was at least one kilometer from a military base, which the truck driver identified as the only potential military target in the area.
Russian forces also fired rocket artillery into the Inhulsky neighborhood, in the eastern part of the city, on March 7. A resident of Inhulsky, a sailor, said that he was awakened at 4:45 a.m. by the sound of explosions. They came closer and closer to his five-story apartment building, and then it was hit. "I felt like my legs had been cut off," he said, "and like the whole building was going to collapse." He ran into the hallway and found an older woman bleeding from her head. He said the rocket hit the hallway, stairwell, and several kitchens on the second and third floors of the building.
The sailor shared 10 videos with Human Rights Watch, including of the bleeding woman, the damage to his building, and CCTV footage of the outside of the building at the time of the attack, as well as 17 photographs of the damage to the building and cars parked outside. Multiple videos show uniform fragmentation patterns consistent with the detonation of fragmentation munitions.
While not a cluster munition rocket, rocket artillery with high-explosive/fragmentation warheads can have an indiscriminate impact, and the use of explosive weapons in populated areas heightens concerns of unlawful, indiscriminate, and disproportionate attacks.
On March 11 multiple attacks hit the Inhulsky neighborhood again in the early morning hours. An IT specialist living in the center of the city said she heard a wooshing sound two or three times when the attacks began. She later visited two sites that had been hit. She shared 36 photographs with Human Rights Watch, showing the damage she observed, including to the windows of a nine-story building and five cars. The photographs show impact spatters of a submunition detonation in the asphalt and on two cars. A remnant of the cargo section of a 9M27K-series Uragan cluster munition rocket is also visible.
The coordinates of one photograph she shared of an unexploded 9N210/235 submunition lying on a patch of grass next to the street, places it at about 1.7 kilometers from the Zorya factory. The factory produces gas turbines, mostly for seafaring defense technology and vessels. The factory may have been identified as a potential military target, but the significant distance between the factory and the civilian objects damaged also suggests the attacks were indiscriminate.
The attacks on the morning of March 11 also hit Pivnichnyy, the suburb directly north of Solyani and about 600 meters from the military base. The truck driver and neighborhood watch member from Solyani said he arrived at the site that afternoon. An Emergency Service team member told him they had destroyed one submunition that had not detonated on impact and had been lying behind the wall of a 10-story building. The Emergency Service also shared with the truck driver a photo of the munition the team took, which Human Rights Watch identified as a rocket-delivered fragmentation submunition.
He said he saw that three cluster munition rocket cargo carriers had hit the boiler room of a building, the roof of a 10-story apartment block, and the yard of a preschool. The building was marked with small grooves caused by the spraying of metal fragments, which were visible as high up as the seventh story, he said. Photos he provided, which he said were taken on March 11 in Pivnichnyy, show impact spatters of a fragmentation submunition detonation in the concrete and damage to windows.
On March 13 at least three areas of Mykolaiv were attacked by rocket artillery carrying submunition payloads. The handyman was in his kitchen at about 8 a.m., when a rocket motor tore through his roof, punctured an interior wall, and came to rest in the bathroom. Based on seven photographs he shared, Human Rights Watch identified the rocket motor and tailfin assembly as a Uragan 9M27K series cluster munition rocket. Though he was only meters away from the rocket motor, he was not injured, but the attack damaged his house.
The truck driver said there was an attack on Solyani at about the same time. He said he heard lots of small explosions at about 8 a.m., and when he later went outside, he "saw lots of black smoke and then a crater in the middle of the street outside of my house, and lots of smaller grooves encircling the crater." He said he saw the Emergency Service putting out a fire in one home hit by a rocket. He and his colleagues from the neighborhood watch rescued a woman and her daughter trapped in a basement by the fire. Human Rights Watch reviewed four photos the truck driver took on March 14 and identified a cargo section for fragmentation submunitions ejected from a Smerch 9M55K cluster munition rocket.
The truck driver said that on March 13 another rocket landed outside of an ATB supermarket near the military base in Solyani. The driver went there soon after the attack and saw about 20 people on the ground injured and bleeding. They were near the cash machine and appeared to have been waiting in line there. He left the area as medics arrived so did not know how many people were killed, but media reports said nine people died.
Human Rights Watch verified six images posted to Telegram purporting to be of the attack, showing four bodies outside the ATB supermarket on Heroiv Stalinhradu Avenue in the northern part of Solyani close to Pivnichnyy. Human Rights Watch also confirmed on an open-source map that a militarized area containing several bases is about 280 meters to the west of the supermarket.
Several rockets carrying cluster munitions hit a neighborhood in the northern part of the city, where a military installation is located. Another witness said that in the residential areas around the base, he observed five rocket motors that had apparently ejected their payloads over the neighborhood. He shared three photos that he said he took about two hours after the attack. Based on the photographs, Human Rights Watch identified the remnant of the weapon as the rocket motor and tailfin section of the Uragan 9M27K series rocket and a 9N210 submunition.
Given the inherently indiscriminate nature of cluster munitions and their foreseeable effects on civilians, their repeated use in Mykolaiv during these three days of attacks might amount to war crimes.
"All States party to the cluster munitions convention should unequivocally condemn these attacks and any other use of this horrid weapon," Wille said. "Relevant jurisdictions should investigate and ensure that those responsible one day face justice."