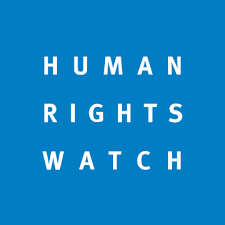 Ukraine: Mariupol Residents Trapped by Russian Assault
Facilitate Civilians' Access to Safety; Urgently Restore Water, Electricity
Civilians in Ukraine's southeastern coastal city of Mariupol have not had access to running water, electricity, or heat since March 2, 2022 when Russian forces surrounded the city, as part of a larger offensive, Human Rights Watch said today.
Acute water shortages pose a grave risk to more than 200,000 residents without humanitarian assistance or who are unable to flee to safety. City authorities say that hundreds of civilians have been killed during the fighting, though the full extent of civilian casualties and damage to the city's infrastructure is unknown due to the continued shelling and limited communications.
"Civilians in Mariupol have been trapped in a parched and freezing cold nightmare without electricity for the last six days, living under the constant threat of Russian bombardments," said Jonathan Pedneault, crisis and conflict researcher at Human Rights Watch. "Russian along with Ukrainian forces need to take the necessary steps to allow civilians to safely leave the city and ensure the basic needs are met for civilians who remain."
A Russian shell reportedly hit the last functioning cellphone tower in Mariupol on March 6, making emergency coordination nearly impossible. Continued shelling has also prevented repairs to damaged electricity, water, communications, and heating infrastructure.
Respecting the terms of the ceasefire and humanitarian corridor agreed to on March 4 would allow civilians to evacuate safely, facilitate rapid and unimpeded humanitarian assistance to all civilians in need, and allow for repairs of vital electricity, water, and heating infrastructure, Human Rights Watch said. Three evacuations of civilians planned since March 5 were canceled due to continued fighting.
Mariupol, a city of roughly 430,000 people prior to the conflict, sits on the shores of the Azov Sea around the mouth of the heavily polluted Kalmius River. Municipal authorities have said that the drinking water system relies on stations pumping groundwater, which requires electricity. Water treatment plants in Mariupol also require electricity.
Russian military attacks on the city began on February 24. Shelling has significantly increased since then, as Russian forces moved to encircle the city around March 2. Since then, civilians have been unable to leave Mariupol.
Petro Andryushchenko, an assistant to Mariupol's mayor, told Human Rights Watch on March 5, 6, and 7 that the city has had no electricity, water, or heating since the city was surrounded. "We do not know why, but the electricity system is destroyed and since the water stations need electricity for the pumps, the water system is also damaged," he said. "We know that there have been rockets that struck near the pumping stations too, but we are unable to send the repair people because of the fighting." He added that these areas are now under the control of Russian forces.
On March 6, the humanitarian medical organization Médecins sans Frontières (Doctors without Borders) said in an audio message that their staff in the city emphasized the urgent need to restore water access. "They don't know where they can get water," their emergency coordinator said. "People are drinking rainwater or collecting snow for water. People have literally broken into heating systems to take water from them to be able to wash their hands."
With current Mariupol weather averaging between -3 and 4 degrees Celsius (27 to 39 degrees Fahrenheit) and no significant precipitation predicted in the coming days, it is crucial to restore the city's electricity and water supplies to prevent the spread of communicable waterborne disease from ingesting contaminated water. Severe dehydration can lead to hypothermia, leg cramps, delirium, blood pressure loss, organ failure, and death. Children, pregnant women, and older people are more prone to the effects of dehydration.
International humanitarian law, or the laws of war, prohibits deliberate and indiscriminate attacks on civilians and civilian objects and attacks that cause anticipated harm to civilians disproportionate to the expected military benefit. The laws of war do not prohibit sieges by land and blockades by sea of enemy forces so long as they do not cause disproportionate harm to civilians. However, parties to the conflict must allow and facilitate the rapid passage of humanitarian aid for all civilians in need and not arbitrarily interfere with it.
Furthermore, all parties to an armed conflict must protect objects indispensable to the survival of the civilian population, including those necessary for water distribution and sanitation. Parties to the conflict need to ensure civilians' access to adequate water and sanitation. Starvation as a method of warfare is prohibited.
International human rights law also obligates governments and de facto authorities to respect the right to water and ensure that people have sufficient, safe, acceptable, physically accessible, and affordable water for personal and domestic uses. Parties to the conflict urgently need to ensure that water and electricity are supplied to the civilian population in Mariupol and other areas affected by the hostilities without discrimination or unlawful restrictions.
"The more than 200,000 civilians trapped in Mariupol face the twin dangers of incessant shelling and an increasingly critical lack of clean water," Pedneault said. "Parties that are not fulfilling their international legal obligations to urgently address Mariupol's humanitarian crisis should be held accountable."
Afghanistan: Taliban Threatening Provincial Media
Journalists Detained, Beaten; Media Outlets Closed
Taliban authorities have carried out far-reaching censorship and violence against Afghan media in district and provincial centers, drastically limiting critical reporting in Afghanistan, Human Rights Watch said today. The situation facing journalists outside Kabul appears much worse than inside the capital, particularly for women.
Journalists in the provinces have described Taliban members threatening, detaining, and beating them and their colleagues who were trying to report the news. Many journalists have felt compelled to self-censor and report only Taliban statements and official events. Women journalists have faced the most intense repression.
"Taliban harassment and attacks on journalists outside major urban areas have largely gone unreported, causing media outlets in outlying provinces to self-censor or close altogether," said Fereshta Abbasi, Afghanistan researcher at Human Rights Watch. "In many provinces, the Taliban have virtually eliminated reporting on a wide range of issues and have driven women journalists out of the profession."
On February 2, 2022, the Taliban spokesperson, Zabihullah Mujahid, told a meeting of the Afghan Journalists Safety Committee, a media advocacy group, that journalists should consider "national interests, Islamic values, and national unity" before publishing. He said that a new media commission would be established to address any problems, and that the authorities would enforce the former government's media law. He also said without elaborating that "women can work freely in the media by observing Islamic and national principles."
But journalists throughout Afghanistan have said that the Taliban severely restrict their work in violation of the Afghan media law and international human rights standards on freedom of expression and the media. An estimated 80 percent of women journalists across Afghanistan have lost their jobs or left the profession since the Taliban takeover in August 2021, and hundreds of media outlets have closed.
Human Rights Watch spoke with 24 journalists and other media workers in 17 of the country's 34 provinces to learn about conditions outside of Kabul. Journalists in each of these provinces said the Taliban actively monitor their publications and compel them to share the content of their reports with the provincial Directorate of Information and Culture before publication. Many of the journalists said that Taliban intelligence officials regularly meet with media organizations to tell them what to publish and to warn them not to contradict Taliban policies or to report on acts of violence by Taliban officials.
"We all fear for our safety," a reporter in Baghlan said. "If something happens to a journalist, there is no institution or system to support them, or to seek justice. There is no support for the media workers in Afghanistan right now."
Many journalists said they or their colleagues had been beaten for trying to report on anti-Taliban protests, arbitrary detention, rising food prices, and other subjects that cast Taliban officials in a bad light. In some provinces, Taliban officials told all women journalists to stop working. The few who are allowed to work can no longer have roles in which they come face-to-face with the public.
"Getting the news from Afghanistan's rural areas has never been easy, but the Taliban's repression of the media in the provinces is dangerous both for the journalists and the people whose lives are harmed by unreported abuses," Abbasi said. "Governments should press the Taliban to end to all attacks on the media, whether in Kabul or the countryside."
Independent Media relies on the generosity of viewers & sponsors. In this chaotic year, the most often heard feedback we receive? We. Ask. The. Questions.
Help The Coalition Continue Our Mission Of "Outrage Porn Free, Civilly Disobedient Media"
Like. Share. Follow. Sponsor. Advertise! And please, buy a T Shirt?