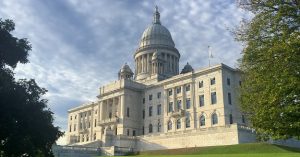 From The Office of Rhode Island Representative Katherine Kazarian:
House Majority Whip Katherine S. Kazarian (D-Dist. 63, East Providence, Pawtucket) has introduced a bill (2023-H 5656) that would help reduce power outages and long-term energy system costs through the development of a more holistic, statewide approach toward managing vegetation that threatens electric grid reliability.
"All of us have felt the anxiety, frustration and stress that comes with the loss of electricity to our homes, and most of these events are tied to vegetation-related damage. We know that power outages can be costly for utility customers and our economy, and represent a threat to public safety," said Whip Kazarian.  "Rhode Islanders are also feeling the very real effects of climate change.  We are witnessing the increased frequency and intensity of storm events, as well as new pests and fungi that impact tree health, and these factors further threaten power system reliability.  Our utility customers deserve a statewide approach to vegetation management that strengthens public safety and enhances electric system reliability, with a goal of reducing power outages and long-term costs.  This bill will allow the power company to look holistically at our grid, propose specifications that enhance its vegetation management practices on a statewide basis, and ensure that their plans receive a thorough review by state regulators before implementation.  The least harmful, least costly power outage is the one that never happens in the first place and I am confident that this approach will strengthen an energy system that Rhode Island families and businesses are so dependent on."
According to the legislation, each electric distribution company having greater than 100,000 customers will have to file a vegetation management specifications and practices plan for application across its service territory with the Division of Public Utilities and Carriers.
The plan would include specifications, under various design scenarios, for vegetation clearing on and around utility infrastructure along public and private rights of way; a notification process for municipalities, state agencies, and/or private property owners that may be impacted by vegetation management activities; and the establishment of a "right tree, right place" program that details the types of trees and other vegetation that can be safely planted near utility-owned power lines and other electric system infrastructure.
Upon receipt of the plan, the Division of Public Utilities and Carriers will post the proposed vegetation management specifications and practices plan on its website and conduct a review of the proposed plan to ensure it complies with industry standards, accounts for the impacts of a changing climate, and facilitates the operation of a safe and highly reliable electric distribution system for all ratepayers.
"I wish to thank Whip Kazarian for her leadership in recognizing that we can do more to improve grid reliability across the state.  Rhode Islanders deserve a dependable electric grid to power their homes and businesses.  Our company is committed to improving system reliability and customer satisfaction, and this bill represents an important opportunity to do both," said Dave Bonenberger, President of Rhode Island Energy.  "Today's climate is presenting new risks to local vegetation and our power system; reducing the likelihood of future power outages is vital to public safety, customer satisfaction, and a more affordable energy system for all.  We look forward to working with the General Assembly and our regulators to ensure we have the tools needed to reduce system outages and costs, while providing customers with valuable resources to foster a "right tree, right place" approach to planting new vegetation in the vicinity of overhead utility infrastructure."
Sen. Alana M. DiMario (D-Dist. 36, Narragansett, North Kingstown, New Shoreham) will be introducing the legislation in the Senate.
The bill has been referred to the House Corporations Committee.