The scene? An October 2021 Barrington School Committee administrative hearing on the Barrington 3 … Teachers fired for simply demanding to maintain their body autonomy and continued respect for their religious freedoms …
Watch as Attorney Gregory Piccirilli fends off a hostile Union Attorney, points out court precedent from a case, ironically, lost by the School Department Attorney … and well … it's just embarrassing.
Press statement on Judge Lanphear decision DiOrio v Bae 5-25-22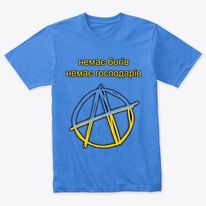 Check Out Our Tee Shirt Fundraiser For Doctors Without Borders In The Ukraine!
Join The Coalition Radio Network In Supporting The People of Ukraine! A donation of 5$ will be made for every "No Masters No Gods" Tee Shirt purchased to Doctors Without Borders\Medicine Sans Frontier, earmarked for humanitarian efforts in Ukraine.
Purchase Tee Shirts Here:
Read Charity Watch Insights Into Doctors Without Borders Ukrainian Operations: