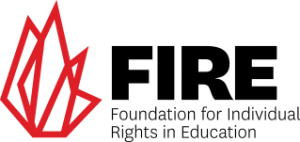 University of Chicago #1 for free speech, DePauw worst, Ivy League underperforms
Survey reveals differences among political affiliation, gender, race, religion, and more
Acceptance of violence to stop campus speakers higher among liberal students
Nearly one-third don't think Trump should be allowed to speak on campus, 22% for Biden
PHILADELPHIA, Sept. 29, 2020 — The Ivy League offers students sterling credentials, but is miserly when it comes to offering them free speech — try the University of Chicago instead. That's just one of the findings from the first-ever rankings of the free speech climates at 55 of America's largest and most prestigious campuses, based on the largest free speech survey of college students ever performed.
Other highlights: Seven of the top 10 colleges for free speech are public, and only one of the top 10 is in the Northeast, while the bottom 10 include many schools that repeatedly make headlines for campus censorship.
The top five colleges for free speech:
The University of Chicago (Green)
Kansas State University (Green)
Texas A&M University (Green)
University of California, Los Angeles (Green)
Arizona State University (Green)
The worst colleges for free speech:
Syracuse University (Yellow)
Dartmouth College (Yellow)
Louisiana State University (Red)
University of Texas (Red)
DePauw University (Red)
Eight of the colleges in the bottom 10 hold either FIRE's worst, 
"red light"
 rating, or a 
"warning"
 rating for colleges that explicitly prioritize other values above free speech. Seven of the bottom 10 are private colleges, three are located in the Northeast, and two of them are in the Ivy League.
"These rankings provide proof that your choice of college can make a real difference in your ability to speak your mind," said FIRE Executive Director Robert Shibley. "Campus leaders no longer have an excuse for remaining ignorant about students who feel muzzled on their campuses. One thing is for sure: colleges have a lot of work to do."
The 2020 College Free Speech Rankings take into account the varied dimensions of free expression on campus — from the ability to discuss challenging topics like race, gender dynamics, and geo-political conflicts, to whether students hold back from openly sharing their views. The rankings are designed to help students and parents make enrollment decisions based on a range of factors including openness, tolerance, self-expression, administrative support for free speech, and campus policies. The rankings capture and score, on a scale from 0-100, the overall speech climate, as well as the distinct experiences of conservative and liberal students.
Self-expression
Fully 60% of students reported feeling that they could not express an opinion because of how students, a professor, or their administration would respond. This number is highest among "strong Republicans" (73%) and lowest among "strong Democrats" (52%). Black students are most likely to report an instance where they censored themselves (63%).
Just 15% of students reported feeling very comfortable publicly disagreeing with a professor about a controversial topic. Only 11% of female students reported this, compared to 19% of male students.
Opposing viewpoints
Students reported an alarming willingness to shut down certain speakers: 87% of students reported that Vermont Sen. Bernie Sanders should be allowed to share his views on campus, but only 69% said the same for President Donald Trump and 78% for former Vice President Joe Biden. Students identifying as Republican or Independent were more tolerant of speakers than Democratic students: 71% of strong Republicans support Biden coming to campus, compared to 49% of strong Democrats reporting the same for Trump.
Female students reported less tolerance for speakers than male students.
LGBT students reported less tolerance for speakers than straight students.
Black students reported less tolerance than Hispanic, Asian, or white students.
Students at Ivy League schools were slightly more in favor of using violence to stop a campus speech: a total of 21% expressed some level of acceptance for violence in these cases, with 1% saying it was "always" acceptable, 3% saying "sometimes" and 17% saying "rarely," compared with 18% overall and 15% among students in the Southeastern Conference. One quarter of atheist students and black students expressed some level of acceptance for violence, as did 27% of LGBT students. Similarly, liberal students expressed a higher acceptance of violence. Students identifying as extremely liberal said violence to stop a speech or event from occurring on campus was "always" or "sometimes" acceptable at a rate double than students identifying as extremely conservative: 13% to 6%. More than a quarter of extremely liberal respondents said it is "rarely" acceptable, compared to 8% of extremely conservative respondents.
The difference in support for other forms of protest are even more varied:
More than 60% of extreme liberals said it's "always" or "sometimes" acceptable to shout down a speaker; compared to 15% for extreme conservatives.
37% of Ivy League students say that shouting down a speaker is "always" or "sometimes" acceptable, compared to 26% of students not enrolled at Ivy League colleges. When it comes to removing flyers, the figures are 37% to 28%.
Almost 1 in 5 Ivy League students find it "always" or "sometimes" acceptable to block other students from entering a campus event, compared to roughly 1 in 10 of non-Ivy students.
More than 40% of college students identified race as a topic that is difficult to have an open and honest conversation about on campus, a figure that rises to 66% for black students. Similarly, 45% of students reported that they do not feel they could have an open and honest discussion about abortion on their campus. The Israeli/Palestinian conflict is particularly difficult to discuss at elite colleges in the Ivy League.
"For the first time ever, prospective college students and their parents can systematically compare the environments for free speech and open discourse across dozens of campuses," said Vice President of Communications Nico Perrino. "For college administrators, this should be a wake-up call and serve as a roadmap to improving their campus cultures. Students might remain silent in the classroom or on the quad, but their survey responses are loud and clear."
The Foundation for Individual Rights in Education (
FIRE
) is a nonpartisan, nonprofit organization dedicated to defending and sustaining the individual rights of students and faculty members at America's colleges and universities. These rights include freedom of speech, freedom of association, due process, legal equality, religious liberty, and sanctity of conscience — the essential qualities of liberty.