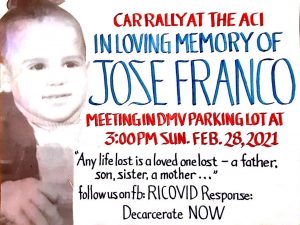 Formerly incarcerated people, families of incarcerated people, and accomplices are rallying in cars circling the ACI facilities on Sunday, 2/28, 3 PM in solidarity with the family of Jose Franco.  (Meeting Point: Rhode Island RMV 600 New London Avenue Cranston RI)
Jose died in RIDOC custody on 2/9. His family was not notified by RIDOC about his death, and learned that he had passed through word of mouth. When they requested information from RIDOC, they were given three different explanations: heart attack, natural causes, and COVID. They had been in regular contact with their family member and were told by multiple people that he had been in good health up until his death. They were expecting his release next month. They were not allowed to see his body before he was cremated. 
Jose is the fourth incarcerated person to die in RIDOC custody since December. He was incarcerated in the Medium Security facility and found dead in his bed, after a correctional officer (CO) failed to make the rounds. He was 46 years old. 
*******************************************************************************************
Speaking @ the January 21, 2021 Car Rally:  Haley McKee .. Suzette Cook of DARE .. and Douglas Rogers of Black & Pink Providence.
********************************************************************************************
Jose passed less than a month after Timothy McQuesten, who died in the Intake facility. At his arraignment Timothy expressed concern that he was missing his antipsychotic medication. He was placed on crisis status, which required COs to perform more regular checks. They failed to do this and he took his own life. A CO has since been put on paid administrative leave.
This rally is the latest action in a nearly year long campaign protesting substandard medical care and inhumane conditions at the prison. Organizers have repeatedly called on the state to reduce the prison population and to address inadequate PPE, unsanitary conditions, improper quarantine protocols, and abusive conditions including the 23+ hour lockdown that has been implemented since last spring. Incarcerated people in the Intake facility currently have thirty minutes or less per day outside cells to shower and make phone calls. 
This action and campaign are organized by community members and organizations including Direct Action for Rights and Equality (DARE)'s Behind the Walls Committee, a committee made up of formerly incarcerated people and the loved ones of incarcerated people; Black and Pink; Formerly Incarcerated Union; Never Again Action Rhode Island, and Showing Up for Racial Justice Rhode Island. 
Organizers stated: "Please, come out tomorrow and stand with Jose's family in demanding answers. They are struggling and they need our love and support right now. No family should ever have to go through this."
Support The Coalition Radio Network? Consider A Purchase From Any Of Our Vendors