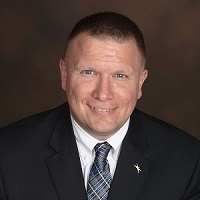 Rhode Island State Representative David J. Place offers the following statement regarding his denial to participate in tonight's General Assembly Reapportionment Commission Hearings (redistricting):
"My concerns regarding vaccine passport mandates are well documented in my public comments, in anti-vax passport legislation I submitted, and in bipartisan anti-vax passport legislation I co-sponsored.
Upon receipt of the meeting schedule for the Redistricting Commission, which notified members of the vaccine passport requirements, I immediately notified the co-chairs that I would not comply with either the passport or the medical testing requirements for attendance at the public hearing scheduled for today (September 30th) on the CCRI campus in Newport. There are many alternative locations to facilitate this important discussion that do not require this unprecedented mandate.
I believe that members of the General Assembly should not be required to provide personal medical information, and/or submit to a medical test, as a prerequisite to fulfilling their constitutional duties. At no other time during my public service have I been asked to provide medical records or testing to participate in the legislative process.
Once this precedent is set, we will greatly endanger the power of the legislative branch by decreasing our ability to represent those we serve –our constituents.
Another concern I share with others on the Commission, is that the vaccine passport requirements disproportionately impact certain identified communities, both on a municipal basis and demographic basis.
These disparate impacts apply directly to the community of Newport where fewer than 55% of residents have been fully vaccinated.
This means that 45% of Newport residents cannot participate in the public hearing without first submitting to a medical test, where accuracy is questionable at best and from which a false positive can result in a complete disruption of an individual's life."