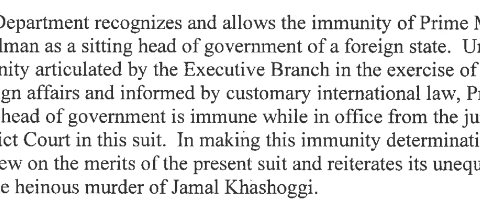 The International Human Rights Community continues to recoil in horror with the disclosure that the United States Department of Justice issued a "Suggestion of Immunity", after the elevation to the title of Prime Minister of Saudi Arabia, of Mohammed bin Salman, largely recognized as the Architect of execution of Journalist Jamal Khashoggi.
Then 2020 Presidential Candidate Joe Biden campaigned aggressively on the notion that Saudi Arabia was an international pariah, based on behaviours like the Khashoggi Murder.
Incrediby, less than 2 years ago, current Secretary of State Antony Blinken issued the "Khashoggi Ban," stating:
"Individuals should be able to exercise their human rights and fundamental freedoms without fear of government retribution, retaliation, punishment, or harm.  Jamal Khashoggi paid with his life to express his beliefs.  President Biden said in a statement released last October on the second anniversary of the murder that Mr. Khashoggi's death would not be in vain, and that we owe it to his memory to fight for a more just and free world."
From a State Department Statement issued February 26,2021, Secretary of State Blinken elaborated:
"To that end, today I am announcing the "Khashoggi Ban," a new visa restriction policy pursuant to section 212(a)(3)(C) of the Immigration and Nationality Act.  The Khashoggi Ban allows the State Department to impose visa restrictions on individuals who, acting on behalf of a foreign government, are believed to have been directly engaged in serious, extraterritorial counter-dissident activities, including those that suppress, harass, surveil, threaten, or harm journalists, activists, or other persons perceived to be dissidents for their work, or who engage in such activities with respect to the families or other close associates of such persons.  Family members of such individuals also may be subject to visa restrictions under this policy, where appropriate."
International Petro Politics, however, may be playing more than a bit part, in the current state:
From JustSecurity.Org, Author William Dodge, in his piece "Is MBS Entitled to Head of State Security"    posits:
"The invitation comes at a delicate time in U.S.-Saudi relations. Initially, the Biden administration distanced itself from MBS, emphasizing that "[t]he President's counterpart is King Salman" not MBS. But with oil prices skyrocketing after Russia's invasion of Ukraine, the administration sought better relations, and President Biden controversially met with MBS on a visit to Saudi Arabia in July."
Mr. Dodge's analysis includes much to consider: Consider the "Slippery Slope":
"If the United States were to break with past practice and suggest status-based immunity for an official other than a head of state, head of government, or foreign minister, it would be starting down a slippery slope. Many foreign officials consider themselves important and would seek the absolute immunity from suit that head of state immunity brings. One can imagine other princes asserting similar immunity claims. Unless the State Department wants to be in the position of explaining to a future prince why he is obviously important, just not as important as MBS, it should hold to its traditional position."
Indeed.
REACTIONS
Democracy for the Arab World Now (DAWN): Decision to Grant Immunity Undermines Only Action For Accountability For Murder Of Jamal Khashoggi
From Democracy For The Arab World Now (DAWN)
The Biden administration's recognition of Crown Prince Mohamed bin Salman's (MBS) status as head of government in Saudi Arabia suggesting his immunity from prosecution in the lawsuit against him for the murder of Jamal Khashoggi is a mistake as a matter of law and policy, said Democracy for the Arab World Now (DAWN).
The organization's lawsuit in federal district court, together with Hatice Cengiz, Khashoggi's widow, seeks to hold MBS and 20 co-defendants liable for the murder under federal and state laws.
"The Biden administration's decision to suggest immunity for MBS in our lawsuit was an unnecessary, elective action that will serve only to undermine the most important action for accountability for Khashoggi's heinous murder," said Sarah Leah Whitson. "It's beyond ironic that President Biden has single-handedly assured MBS can escape accountability when it was President Biden who promised the American people he would do everything to hold him accountable. Not even the Trump administration did this."
The Biden administration filed its suggestion of immunity with the court today, which is traditionally determinative on the court. Until this time, both the Trump and Biden administrations had stayed out of the the civil lawsuit for Khashoggi's murder. DAWN's lawsuit alleges that MBS and his co-conspirators ordered the abduction, torture, murder, dismemberment, and disappearance of Khashoggi for the purpose of silencing and preventing him from continuing his efforts in the United States as a voice for democratization in the Middle East, principally as DAWN's executive director, the role he held until his murder.
Neither the Trump nor Biden administrations previously had agreed to Saudi government demands to suggest immunity for MBS in multiple lawsuits pending against him in the United States. In March, MBS reportedly refused a meeting with President Biden and Biden's request to increase Saudi oil output unless the Biden administration granted him immunity from the lawsuits. On July 1, district court judge John Bates, who is hearing the case, issued a deadline of August 1 for the Biden administration to submit a statement of interest on whether MBS should be granted sovereign immunity. Prior to President Biden's scheduled trip to meet with MBS in Riyadh, the administration asked Judge Bates for an extension of the deadline; the court granted a first delay to October 3.
On September 27, just days before the October 3rd deadline for the Biden administration to weigh in on immunity, King Salman issued an unprecedented royal decree providing an exception to Article 56 of the Basic Law of Governance, which states that the King serves as prime minister. The decree appoints MBS to act as prime minister, in an apparent effort to secure "head of government" immunity.  On September 30, the Justice Department asked for a 45-day delay to respond to the immunity question, citing the "new circumstances" of MBS' appointment as prime minister. On October 5, the Saudi government announced it would slash oil output at its meeting with OPEC member states, widely seen as a snub of U.S. requests for increased output to quell rising oil prices.
"It's impossible to read the Biden administration's move today as anything more than a capitulation to Saudi pressure tactics, including slashing oil output to twist our arms to recognize MBS's fake immunity ploy," said Whitson. "Rather than rewarding MBS with impunity for his merciless crimes, Biden should have stood up for American values and legal principles."
While  immunity typically extends to sitting heads of state, heads of government, and foreign ministers,  Saudi Arabia is an absolute monarchy where all power resides ultimately in the King. The decree appointing MBS as prime minister was an unprecedented, exceptional and temporary modification of the Basic Law that designates the King to serve as the prime minister, and it has effect only so long as MBS is crown prince. The designation of immunity is a transparent and bad-faith ploy, designed not to add a substantive role to MBS' responsibilities, but exclusively to gain MBS immunity from lawsuits.
DAWN's lawsuit includes as defendants senior advisers to MBS who played a leading role in organizing Khashoggi's murder, Saud Al-Qahtani and General Ahmed Assiri. They have joined MBS in filing a motion to dismiss the lawsuit against them. DAWN's lawsuit against MBS's co-conspirators will proceed regardless of whether or not MBS succeeds in evading jurisdiction.
"Whether or not MBS succeeds in worming out of this lawsuit, we will extract in discovery against his co-defendants every last bit of evidence about his role in this murders," said Whitson. "Try as he might, he will not succeed in burying his crime."
Amnesty International: Biden Administration's Attempt To Grant Immunity To Mohammed Bin Salman Is A Deep Betrayal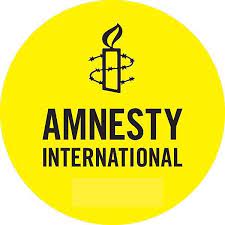 Responding to the USA government's legal submission calling on a US Court to grant Crown Prince Mohammed bin Salman immunity from a lawsuit filed by murdered journalist Jamal Khashoggi's fiancée, Agnès Callamard, Amnesty International's Secretary General, said:
"The US government should hang its head in shame. This is nothing more than a sickening, total, deep betrayal. First the evidence of the Crown Prince's involvement in Jamal Khashoggi's murder was disregarded by President Trump, then President Biden's fist bump – it all suggests shady deals made throughout.
"For the Saudi government to seek to extend immunity to Mohammed bin Salman simply by declaring him Prime Minister is beyond cynical. It is disappointing that the US government has given effect to this legal ruse. This sends a deplorable message that those in power – be they heads of state, government officials with blood on their hands, generals commanding war crimes, ministers ordering abduction and torture, corrupt executives – are free to operate above the law with total impunity."
"Mohammed bin Salman must face a court of law to answer these serious allegations and we hold out hope that the US court system will reject the department of justice argument and ensure that the matter proceeds to trial. No one should be assured immunity for such heinous crimes and we, and the international human rights movement as a whole, will not rest until those responsible for Jamal Khashoggi's murder are brought to justice."
The Freedom Initiative Responds To The Biden Administration's Support Of Claim Of Legal Immunity From Saudi Crown Prince Mohammed bin Salman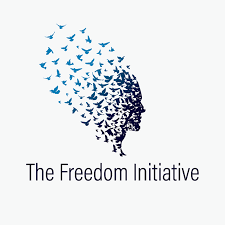 Responding to news that the Biden administration has urged a federal court to grant immunity to Saudi Crown Prince Mohammed bin Salman (MBS) in a U.S. lawsuit over his role in the murder of journalist Jamal Khashoggi, Executive Director of the Freedom Initiative Andrea Prasow said: 
"Coming on the heels of Biden's literal embrace of Egyptian President Abdel Fattah El-Sisi in Egypt last week, the decision to support immunity for MBS risks solidifying a U.S. approach that coddles and rewards autocrats and dictators, rather than isolates them. There is still time for the Biden administration to fulfill its pledge to center human rights in U.S. foreign policy, but the clock is ticking." 
"At a time when abusive foreign governments are increasing their harassment of their citizens outside their own borders, this move sends a dangerous message that as long as their repressive tactics are committed at the highest levels, they can commit crimes with impunity, even on U.S. soil," added Prasow. 
The Department of State submitted a letter late Thursday evening declaring that MBS, as the Crown Prince is known,  – who was appointed prime minister in September this year – should be immune from the suit, which is being pursued by his fiancée, Hatice Cengiz, and the NGO Democracy for the Arab World Now, in a Washington, D.C. federal court. The decision on immunity is still pending and will be determined by the judge. 
The move also comes as Saudi Arabia continues to target U.S. citizens within its borders. In recent weeks, three American citizens – Carly Morris, Mohamed Salem, and Saad Al-Madi – were detained or sentenced to prison. 
Allison McManus, Research Director of the Freedom Initiative, added: 
"What is particularly appalling about this move is that the administration could have simply stayed silent and allowed the courts to determine immunity. Instead, it chose to side in favor of one of the world's most brutal dictators. Not only does this decision undermine Biden's stated commitments to human rights, but it also puts Americans at risk, making clear that there will be no consequences if they are detained, torture or even killed at MBS' behest." 
Additional Background
Assessment-Saudi-Gov-Role-in-JK-Death-20210226v2

United Nations G1929691