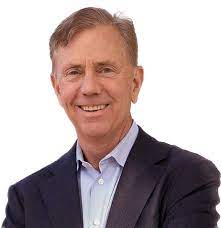 Connecticut, Massachusetts & Rhode Island Sign First-Time Agreement For Multi-State Offshore Wind Procurement
Connecticut, Massachusetts, and Rhode Island today announced New England's first offshore wind multi-state coordination memorandum of understanding (MOU), which creates a pathway for a potential coordinated selection of offshore wind as each state solicits offshore wind energy generation through their respective state procurements. This MOU is the first of its kind in the United States.
Offshore Wind MOU

Through this MOU, the three states will together seek multi-state offshore wind proposals that would expand benefits for the region, capture cost reductions by developing projects at scale, and develop into viable projects. In coordinating, the states will amplify efforts to foster regional economic development, create high-paying, in-demand jobs, and promote environmental justice and equity.
The three states request that offshore wind developers submit multi-state offshore wind project proposals for consideration by the soliciting parties through their respective offshore wind procurements for selection in 2024. Combined, the states' solicitations are for up to 6,000 MW of offshore wind. Actual project selections will depend on states' individual assessments of proposals' costs and benefits to ratepayers and other evaluation criteria specified in states' requests for proposals. Any two or three states may agree to select a multi-state proposal(s) up to each states' procurement authority and split the anticipated megawatts and renewable energy certificates from a single project.
"We can go further when we work together, and I'm excited to be collaborating with our neighbors in Massachusetts and Rhode Island on this MOU, which opens up the potential for us to procure clean energy from offshore wind together at more competitive and affordable rates, for the benefit of the residents and businesses in our respective states," Connecticut Governor Ned Lamont said.
"The climate crisis requires us to act in new and innovative ways," Massachusetts Governor Maura Healey said. "Massachusetts is proud to join with our neighboring states to continue to grow New England's offshore wind industry. By working together, we can amplify the many benefits of offshore wind for all three states, including regional economic development opportunities, healthier communities, lower energy bills, and advantages to environmental justice populations and low-income ratepayers."
"Offshore wind is an important resource in meeting our Act on Climate and renewable energy goals," Rhode Island Governor Dan McKee said. "Regional collaboration through this three states MOU will not only help in advancing offshore wind projects of large scale by securing cost-effective energy prices for ratepayers – but it also provides a significant opportunity for long-term economic development that the offshore wind industry will bring to the three states."
The multi-state coordination MOU is an agreement between the Connecticut Department of Energy & Environmental Protection (DEEP), Massachusetts Department of Energy Resources (DOER), and the Rhode Island Office of Energy Resources (OER).
States Offshore Wind Procurement Background Information
Connecticut
On July 25, 2023, DEEP released a draft Request for Proposals for Offshore Wind Facilities. DEEP is currently developing its final RFP, which will be released in the coming weeks, with an anticipated bid deadline of January 31, 2024. Consistent with past practice, DEEP is seeking offshore wind project proposals for up to the agency's full remaining procurement authority (1,196 MW) for new offshore wind under Conn. Gen. Stat. § 16a-3n. More information is available on DEEP's Energy Filings page under the "2023 Offshore Wind Procurement" proceeding. The final RFP will also be posted at this location.
Massachusetts
On August 30, 2023, DOER, with the Massachusetts electric distribution companies, jointly issued a Request for Proposals (RFP) for Massachusetts' fourth and largest offshore wind solicitation to date. The RFP establishes a transparent, predictable, and competitive procurement process to invite, evaluate, and select up to 3,600 MW of offshore wind generation proposals. For the first time, the solicitation allows the Commonwealth of Massachusetts to coordinate with other states if participation has a positive or neutral impact on Massachusetts ratepayers and would provide other benefits, including but not limited to project viability and economic development.
Rhode Island
Rhode Island Energy is in the process of developing an Offshore Wind RFP under the state's Affordable Clean Energy Security Act. Rhode Island Energy will be seeking proposals of approximately 1,200 megawatts of new offshore wind capacity in October. The RFP is expected to be posted in mid to late-October, with information posted at the following Rhode Island Energy procurements here.
Governor Lamont Announces Connecticut's Strategic Roadmap for Offshore Wind, Launches Connecticut Wind Collaborative
Governor Ned Lamont today announced the publication of Connecticut's first strategic roadmap for economic development in the offshore wind industry, which will be supported by a newly-formed public-private group known as the Connecticut Wind Collaborative. The roadmap can be downloaded online at portal.ct.gov/offshorewind.
"Connecticut's deepwater ports, direct water access, and long history of advanced manufacturing make our state a natural home for offshore wind projects serving all of New York and New England," Governor Lamont said. "The offshore wind industry has the opportunity to create even more high-quality, well-paying jobs in Connecticut, and we want to make sure those jobs are created here. Our administration is focused on building an offshore wind ecosystem that boosts local economies while also providing families and industries with clean, reliable, and affordable power."
A coalition led by the Connecticut Department of Economic and Community Development (DECD) in collaboration with the Office of the Governor, the Connecticut Department of Energy and Environmental Protection (DEEP), and several partner agencies, nonprofits, and industry groups developed Connecticut's Offshore Wind Strategic Roadmap to accelerate the equitable and sustainable growth of the state's offshore wind economy.
The roadmap summarizes Connecticut's strengths, commitments, and investments in clean energy and offshore wind, and identifies four strategic pillars, each with priority actions to focus efforts going forward:
Infrastructure and real estate: Leverage Connecticut's deepwater ports to expand the state's offshore wind marshaling, operations and maintenance, and other support capabilities.
Supply chain: Increase regional capabilities and coordination across the offshore wind supply chain with a focus on resiliency, equity, and affordability.
Workforce: Expand Connecticut's existing workforce development programs to ensure that local workers – including those in historically disadvantaged communities – can prepare for and connect with high-quality jobs in the offshore wind industry.
Research and development: Partnering with the state's extensive network of innovative academic and investment institutions to promote research activities related to offshore wind.
The newly launched Connecticut Wind Collaborative (CWC) will be made up of leading industry experts and stakeholders from across the public and private sectors and will be tasked with supporting the full range of offshore wind activities within the state. The CWC will execute many of the priority actions outlined in the strategic roadmap, as well as foster critical collaboration across the broader region.
"Connecticut is already a central hub for offshore wind development," DECD Commissioner Alexandra Daum said. "Every aspect of this industry – from research to assembly to maintenance – has the ability to bring economic opportunities to communities across Connecticut. The development of the roadmap and the formation of the collaborative are critical to fully capitalizing on the economic opportunities this sector will generate in the years ahead."
"Offshore wind is an important tool in our toolbox to provide clean, affordable, and reliable energy to the residents and businesses of Connecticut, and to achieve our statutory target of 100% zero-carbon electricity by 2040," DEEP Commissioner Katie Dykes said. "Connecticut is well-positioned as a leader among U.S. states in this industry, and we've been working with our federal partners and our sister states in the region to facilitate the continued development of this important industry and keep prices competitive with other new resources. The collaborative and roadmap announced today will help to further coordinate our efforts in this area, leveraging the many important stakeholders and resources in our state."
"Our direct water access, network of deepwater ports, and long history of advanced manufacturing has made Connecticut a natural home for offshore wind," Connecticut Chief Manufacturing Officer Paul Lavoie said. "The Connecticut Wind Collaborative will introduce even more collaboration and innovation into the state's offshore wind economy. I look forward to sharing additional details on the collaborative and its activities."
Earlier today, Governor Lamont, along with the Governors of Massachusetts and Rhode Island, announced New England's first offshore wind multi-state coordination memorandum of understanding, which creates a pathway for a potential coordinated selection of offshore wind as each state solicits offshore wind energy generation through their respective state procurements. This MOU is the first of its kind in the United States.
In July 2023, DEEP released a draft request for proposals for new offshore wind. DEEP is currently in the process of preparing the final request for proposals for release in the coming weeks. Together with Massachusetts and Rhode Island, DEEP will request bids from offshore wind developers in early 2024 as part of the state's effort to secure the affordable and reliable clean energy mix that Connecticut needs to achieve the statutory target of 100% zero-carbon electricity by 2040 and ensure the reliability of the electric grid.