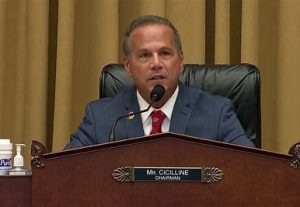 Congressional LGBTQ+ Equality Caucus Chair U.S. Congressman David N. Cicilline (RI-01) and Co-Chair U.S. Congressman Mark Takano (CA-41) introduced a resolution today to acknowledge and apologize for the mistreatment of and discrimination against lesbian, gay, bisexual, and transgender (LGBT) individuals who served the United States in the Armed Forces, the Foreign Service, and the Federal civil service.
"Our government spent years persecuting or wrongfully terminating LGBT individuals for no reason other than they loved the wrong person," Cicilline said. "The call to service is one of the greatest acts of patriotism, but to be denied that opportunity because of who they were is one of our country's greatest injustices. It's long past time the government acknowledged this horrific practice, apologize to those who were harmed and commit to full equality for all Americans."


"LGBT civil servants and servicemembers have served with honor, distinction, and often, in the face of intense discrimination and fear of termination," Takano said. They heroically committed their lives to the betterment of our nation, only to be met with longstanding policies barring them from service or forcing them to conceal who they are. In our ongoing effort to create a more equal, inclusive, and accepting country, we must acknowledge our past shortcomings and reaffirm our commitment to treating all people with fairness and respect. As Chairman of the House Committee on Veterans' Affairs, it's my responsibility to advocate for our nation's veterans, that's why I'm proud to be part of this effort to ask the federal government to issue a formal apology for the difficulties LGBT individuals have experienced in the service, and move our country forward."
Senators Tim Kaine (D-VA) and Tammy Baldwin (D-WI) introduced a similar resolution last month.
Resolution to Apologize to LGBT Civil Servants