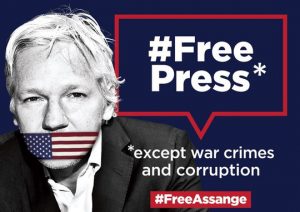 Tomorrow: Monday, July 19, 4:30-6PM @ Park Street Station On The Boston Common
Supporters of Julian Assange will rally on Monday, July 19 from 4:30 to 6pm at Park Street Station, Boston Massachusetts.  They are calling on the Biden administration to drop the charges against Assange, especially in light of the fact that the star witness for the computer intrusion part of the case has recanted, admitting that he was working for the FBI and testified in exchange for immunity.  Siggi Thordarson has admitted lying to the FBI about his assertion that Assange asked him to hack the phones of Icelandic MP's.  Thordarson started working for the FBI after stealing $50,000 while working as a volunteer at WikiLeaks.   This development seriously undercuts the United States case against Assange.  The revelations came out in an article in Stundin, an Icelandic publication, on June 26, 2021.  Here is the article: https://stundin.is/grein/13627/.
The other recent development in the case is the hearing that was held at the UK High Court on July 7 in which they agreed to hear the US appeal of their January refusal to extradite Assange to the US.  No court date has been set for the hearing, leaving open the possibility that Assange will spend months more in prison.
The activists will be speaking out about why they think the US should stop pursuing their prosecution of Assange.  President Obama felt that he could not prosecute him, because of the First Amendment, but Trump had no such compunctions.  President Biden is following Trump's lead, trying to set an example to other journalists of what will happen to people who expose US state secrets.
Passersby will be encouraged to write letters to Attorney Merrick Garland and sign a petition to Senator Markey and Senator Warren, asking for the prosecution of Julian Assange to be dropped.
Support The Coalition Radio Network? Consider A Purchase From Any Of Our Vendors
Julian Assange and WikiLeaks revealed a lot of embarrassing information about crimes committed by members of the US government, but this is a standard part of investigative journalism.  The activists at the rally are asserting that the documents that WikiLeaks released served the public interest.
Assange won his case in January but was denied bail.  He is presently incarcerated in London's Belmarsh Prison, a supermax prison in London.
Many people familiar with the case worry that Julian Assange is under such stress, and in such bad health, that he may not survive much longer in prison.