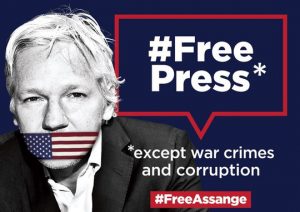 Julian Assange's Fathger & Brother, John & Gabriel Shipton, Are Crossing The US As Part Of An Historic, Global Tour To Advocate For Their Son & Brother, The Founder Of WikiLeaks.
The Event Will Be Held In Boston, Wednesday, June 9, @ 11AM @ Park Street Station.
Julian Assange is an award-winning journalist who exposed US war crimes and has now been incarcerated at a supermax prison in London for over two years. The US is seeking his extradition to prosecute him under the Espionage Act, though no one has questioned any of the information he exposed and the prosecution at the 2020 extradition hearing could not prove that anyone was hurt by WikiLeaks publications.
The Shiptons are arriving in the United States from Australia for a month-long, country-wide #HomeRun4Julian tour, in their ongoing battle to save Assange's life. John Shipton, Julian's 70-year-old father, is traveling the world to advocate for his son, who has been silenced for 3 years.
If convicted on all charges, Julian Assange faces 175 years in prison. Assange is a political prisoner and the United State's Government's  attempt at prosecution effectively criminalizes journalism.
Speakers, including his family, will talk about the importance to journalism, as well as to justice, of freeing Assange.  His continued incarceration poses a real threat to global press freedom & our First Amendment Rights.
This rally is sponsored by Boston Area Assange Defense, Mass Peace Action and Boston May Day Coalition.
Info: Twitter @AssangeBoston AssangeBoston@gmail.com www.AssangeDefense.org/tour
 Note: The Coalition Radio Network Is In The Planning Stages To Provide Coverage