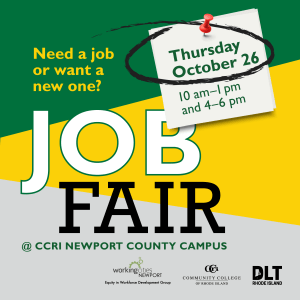 From The Community College of Rhode Island!
The Community College of Rhode Island (CCRI), in partnership with Working Cities Newport and the Rhode Island Department of Labor & Training (RIDLT), is hosting an Aquidneck Island Job Fair.
The event will take place at CCRI's Newport Campus on Thursday, October 26, providing an invaluable platform for job seekers and employers to connect, fostering economic development and workforce growth in the region.
By joining forces, CCRI, Working Cities Newport, and the RIDLT are offering job seekers the opportunity to explore career prospects, network with potential employers, and learn about available workforce training opportunities.
Event details:
Aquidneck Island Job Fair
CCRI Newport Campus
1 John Chafee Blvd
Thursday, October 26
10 am–1 pm and 4–6 pm
The job fair will feature a diverse range of employers representing various industries, including manufacturing, healthcare, education, technology, hospitality, and more.
Employers interested in participating in the Aquidneck Island Job Fair are encouraged to register here to showcase their job opportunities and connect with a motivated and talented pool of potential employees.
This event is open to job seekers of all backgrounds and experience levels and participation is free of charge. Attendees are advised to dress professionally and bring multiple copies of their resumes to make the most of this fantastic networking opportunity.
About CCRI
The Community College of Rhode Island, the state's largest public institution of higher education, enrolls nearly 40,000 Rhode Islanders annually across its academic certificate and degree programs, workforce training programs, Adult Education, and driver education programs. With a passionate commitment to student success and closing equity gaps, CCRI provides Rhode Islanders with an outstanding college education that leads to strong learning outcomes, successful degree attainment, seamless transfer opportunities, and robust labor market outcomes.
With four campuses across Rhode Island, CCRI offers online, hybrid, and in-person options for students, meeting them where they are and helping them achieve their educational and career goals. CCRI was designated a Hispanic Serving Institution in 2023 and named the 2019 Two-Year College of the Year by Education Dive Magazine.
About Working Cities Newport
Working Cities Newport is a collaborative effort aimed at enhancing the quality of life for low and moderate-income residents in Newport, Rhode Island. By fostering collaboration among various stakeholders, Working Cities Newport seeks to address economic disparities and promote community development, with a focus on improving job opportunities, education, and financial stability for residents.
About the Rhode Island Department of Labor & Training
The Rhode Island Department of Labor & Training (DLT) is committed to ensuring the state's workforce is skilled, trained, and ready to meet the needs of employers and contribute to Rhode Island's economic development. DLT provides a wide range of employment services and workforce training programs to both job seekers and employers.