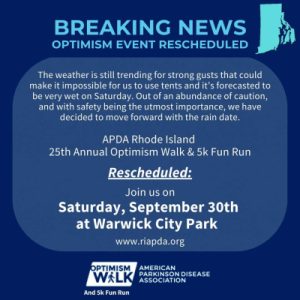 The 2023 Rhode Island Optimism Walk is part of a series of Optimism Walks taking place from coast to coast. It is a day of inspiration, community, and fundraising to help people with PD get the care and support they need. Participants will include people living with PD, their friends and care partners, medical professionals who focus their work on PD, and more. Registration is open and donations are welcome.
There will be refreshments, music, family-friendly activities, educational information, giveaways, and much more. The official honoree of the event is Sandi MacLeod, a Warwick native who lives with PD, who has been an incredible volunteer, advocate, and inspiration to the local PD community.
Funds raised will enable APDA to continue providing information, education, and support to those impacted by PD and fund scientific research into the causes, prevention, treatments and ultimately the cure. For more information on the Optimism Walk as well as the programs and services provided by the APDA Rhode Island Chapter, please go to www.riapda.org.
Timeline!
Saturday, September 30, 2023
9:00am: Fun Run check-in begins
10:00am: Fun Run begins
9:30am: Walk check-in begins
11:00am: Walk begins
Warwick City Park-Stephen O'Connor Blvd Warwick, Rhode Island