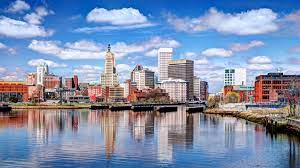 Mayor Jorge O. Elorza today announced the City of Providence is updating its COVID-19 policies based on the CDC's COVID-19 Community Levels, a new tool to help communities decide what prevention steps to take based on the latest data. According to the CDC, levels can be low, medium, or high and are determined by assessing the number of hospital beds in use, hospital admissions, and the total number of new COVID-19 cases in an area. Providence County is currently at a low level.
Effective March 8, the City of Providence is updating its COVID-19 vaccination policy to include a requirement that would allow employees who are not fully vaccinated against the virus, as defined by the CDC, to submit two negative covid-19 tests weekly.
In addition, face masks will no longer be required in City buildings, though both City employees and visitors are welcome to continue wearing masks if they so choose. City employees and visitors to City buildings are encouraged to continue practicing COVID-19 safety measures like social distancing, and plexiglass barriers and separate entrances and exits at each building will remain in place. Residents are encouraged to continue using remote and online city services when possible.
"We have made incredible strides in getting our workforce vaccinated, and I'm appreciative of all City employees who stepped up to protect themselves, their coworkers and our community," said Mayor Jorge O. Elorza. "We are headed in the right direction—with COVID-19 cases, hospital and ICU patient admissions continuing to decline, and vaccination rates continuing to rise here in Providence. While cases have declined and we are updating our policy, I recognize that COVID-19 is ever-evolving and will not hesitate to make further updates as needed."
In the event that Providence County rises to a high COVID-19 Community Level, the City may put additional safety precautions in place including, but not limited to: requiring masks in the workplace, expanding weekly testing requirements, and barring City employees who are unvaccinated and do not have a valid medical exemption from working for the duration of this time period.
The Mayor's Center for City Services continues to book vaccine appointments in English or Spanish for Providence residents who need assistance or do not have access to a computer. For support booking an appointment, residents are encouraged to dial 3-1-1 or (401)-421-CITY.
Independent Media relies on the generosity of viewers & sponsors. In this chaotic year, the most often heard feedback we receive? We. Ask. The. Questions.
Help The Coalition Continue Our Mission Of "Outrage Porn Free, Civilly Disobedient Media"
Like. Share. Follow. Sponsor. Advertise! And please, buy a T Shirt?