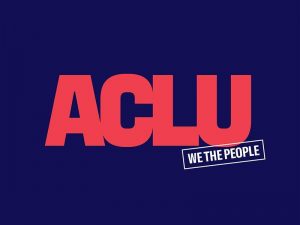 The ACLU of Rhode Island today announced the favorable settlement of a seven-year-old federal lawsuit against the Providence Police Department, resulting in the award of $13,000 each to two plaintiffs who alleged their free speech rights were violated during a protest outside a fundraiser being held for then-Gubernatorial candidate Gina Raimondo.
The lawsuit, filed by ACLU cooperating attorney Richard A. Sinapi on behalf of Shannah Kurland and Gladys Gould, stemmed from police actions outside the Roger Williams Park Casino in September 2013. Over 200 people, including Kurland and Gould, gathered in the park outside the Casino with signs to protest Raimondo's controversial pension reform activities as General Treasurer. During the protest, the lawsuit claimed, the two plaintiffs (along with the other demonstrators) were ordered by Providence police to move farther and farther away from the Casino, making it much more difficult for them to have their message seen and heard by individuals attending the event. Gould reluctantly moved each time, but when Kurland refused to move to the farthest location, she was arrested for disorderly conduct, a charge that was ultimately dismissed. The suit challenged the actions of the police as a violation of the two protesters' rights to freedom of speech.
In addition to the monetary payment to the plaintiffs, the settlement agreement filed today provides that the City will pay $74,000 in attorneys' fees. Under other terms of the stipulation filed with the court, the City admits no liability.
The lawsuit had argued that parks and sidewalks "are quintessential public forums," and the Supreme Court has consistently affirmed the right of demonstrators to use them, and that since the plaintiffs "were in no way interfering with the flow" of pedestrian or motor vehicle traffic, "there was no legitimate governmental interest in relocating their protest on three different occasions."
After extensive discovery in the lawsuit was conducted, U.S. District Judge Mary McElroy denied both sides' motions for summary judgment last September, concluding that there remained "disputed issues of material fact" regarding the circumstances of the protest and whether the police had probable cause to arrest Kurland that needed to be decided by a jury after trial. The stipulation filed today noted the "considerable time and expense" both sides had spent defending their positions and they were therefore "desirous of ending this litigation" on mutually agreeable terms.
When this First Amendment lawsuit was initially filed in 2014, the ACLU had, only months earlier, obtained a favorable ruling against the City in another free speech case. That lawsuit was on behalf of Providence resident Judith Reilly, who had been barred by police from leafleting outside a venue where then-Mayor David Cicilline was speaking. A court ruled that the police had violated Reilly's First Amendment rights, and the City paid $75,000 to settle that suit after unsuccessfully defending their actions.
COMMENTS FROM PARTICIPANTS IN THE CASE FOLLOW BELOW:
Plaintiff Gladys Gould: "Now more than ever we have an urgency to keep using our public speech and voice it in public places that are protected by the First Amendment.  We must keep using it in order not to forget that we do have a right that's protected by the Supreme Court. The police must understand that this is a right that's guaranteed by the Constitution and just like any other right, we need to embrace it."
Plaintiff Shannah Kurland: "Every single day, in my community and in my work as a civil rights attorney with PrYSM, we challenge police violence and racism.  Time after time, even with a textbook violation of free speech rights like this, the leadership of our city insists on wasting money defending illegal behavior instead of accepting our offers to train police on what the Constitution requires. While it's good we can put this behind us, I am no less worried for my neighbors, friends and family who live in constant danger of illegal police behavior."
ACLU cooperating attorney Richard A. Sinapi: "The City and the Providence Police Department deserve recognition for their willingness to agree to this settlement.  This agreement is a recognition that Gladys and Shannah's rights to move freely about and engage in First Amendment free expression activities in a public place were violated.  In the past, the failure of City and the Providence Police Department to acknowledge and take appropriate action to prevent infringement of free expression activities by police has subjected the City to numerous lawsuits that have cost taxpayers nearly $250,000 over the past several years in settlements alone—not to mention the costs of defense. Hopefully, going forward, the rights of people to peaceably move about, assemble, and engage in First Amendment activities on public streets, sidewalks, and parks will be respected and protected."
More info on the case, Kurland v. City of Providence, can be found here.
Independent Media relies on the generosity of viewers & sponsors. In this chaotic year, the most often heard feedback we receive? We. Ask. The. Questions.
Help The Coalition Continue Our Mission Of "Outrage Porn Free, Civilly Disobedient Media"
Like. Share. Follow. Sponsor. Advertise! And please, buy a T Shirt?