Education Activist Daryl Gould had just begun to read a prepared statement, as part of the May Bristol Warren School Committee Meeting … during the Public Comment Segment … when the Legal Counsel for the Bristol Warren Regional District School Committee, Attorney Mary Ann Carroll interrupted.
Mr. Gould had intended to read a statement, calling out the behavior of School Committee Member Carly Reich from an earlier meeting, citing, per Mr. Gould "her inappropriate & sexist comments" directed to fellow School Committee Member Victor Cabral. This follows a Committee Meeting, earlier in May, where public comment was squelched entirely.
Rough Transcription
Attorney Carroll: "Madame Chair, Madame Chair, I am going to ask that he stop this public comment. Public comments are not to, in any way, criticize members of the School Committee. They're for comments that might have to do in in public. so I'm gonna Gould: Where's Where's the criticism? Where's the criticism? Attorney Carroll: According to the General Laws you can stop public comment at any time. Um, and I'm gonna suggest that this is not appropriate. Gould: If it's based upon criticism … i ask that you identify any criticism … "talking over"
Marjorie McBride: Public Comment is closed. Public Comment is closed for Daryl Gould. Is there another person who has public comment?
Multiple attempts were made to reach Attorney Carroll and The Bristol Warren School District for comment. Calls were not returned
Mr. Gould's Intended Statement
At the school committee meeting on May 17, the meeting opened with a prepared statement by school committee member Carly Reich. While I had hoped that the statement would be an apology, it included nothing of the sort. Rather than focusing on her behavior during the previous meeting, Reich instead chose to express her frustration with a budgetary situation she had a direct hand in creating. During a recent school committee budgetary meeting, committee member Victor Cabral was explaining a procedural matter about the meeting and was abruptly met with an inappropriate response by Mrs. Reich, who characterized Mr. Cabral's comments as "mansplaining." Not only were Mr. Cabral's comments not condescending in tone, but the use of such sexist and divisive terms is inappropriate and unacceptable for a school committee member, during a meeting. If the roles were reversed, I can only imagine the backlash that would have been received. As a father of boys in our district, I wonder if Mrs. Reich is interested in representing the men in our district, or the boys in our schools. How can somebody who holds such clear contempt for men be expected to do so? Mrs. Reich has been a vocal advocate for diversity and equity in our district. If she expects the students and voting public to believe that, she owes Mr.Cabral, her school committee peers, and her constituents (all of them), a sincere apology. Daryl Gould Main Street, Warren
Bristol Warren School District Meeting
Multiple attempts were made to reach Attorney Carroll and The Bristol Warren School District for comment. Calls were not returned
Rules Regarding Public Participation At School Committee Meeting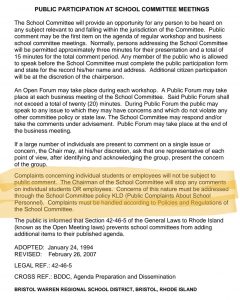 Additionally, Ms. Carroll was not eligible to participate as the Meeting Parliamentarian. See regulation below.